Aided by a strong afternoon wind, fire completely gutted the former Sheriff nightclub building on Sheriff Street in Georgetown.
The Fire Service was summoned to the blaze just after 3:00pm on Wednesday afternoon after receiving several calls from persons who reported seeing smoke bellowing from the building.
When the firemen arrived on the scene and hurried into action, the heavy grill work on the building prevented them from gaining easy access. That problem coupled with difficult access to a water source and malfunctioning equipment, caused the fire to engulf the entire building.
The building was previously owned by the popular Bacchus family who operated the nightclub and bar for a number of years.  A relative reported that it had been sold to another businessman and was empty at the time of the fire.
According to the relative, the cause of the fire is unknown since no one was living in the building at the time and it had no electricity supply.
Officer in Charge of the Guyana Fire Service, Compton Sparman told News Source that a full probe will be launched to ascertain the cause of the blaze.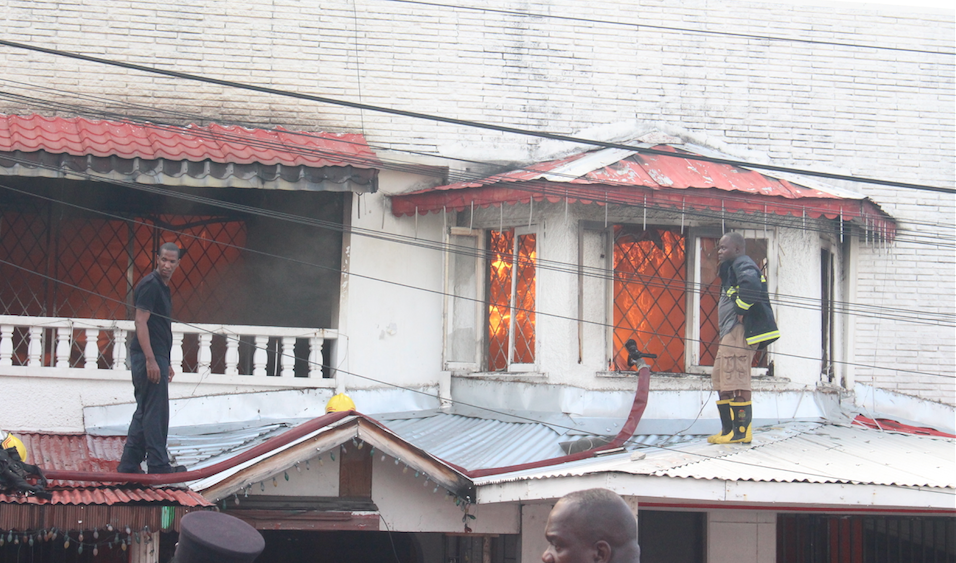 He said while the firemen faced some initial difficulties in putting the fire out, they were able to contain it to the one building in the busy Sheriff Street area.
For several years, the Sheriff nightspot served as the premier venue for Guyanese entertainment. Its popularity started to dwindle a few years ago.