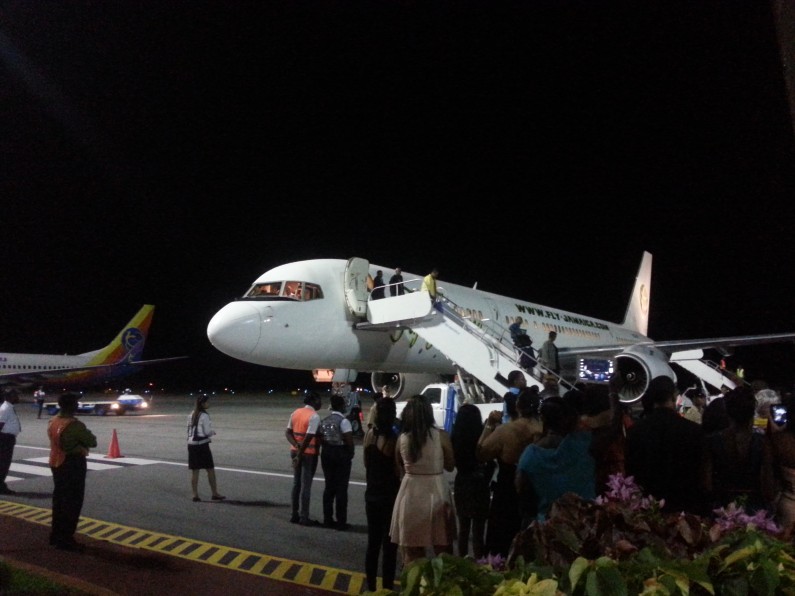 Under clear skies on a still Georgetown night, Fly Jamaica officially began its service into the Guyana market promising to be the airline that will create more linkages between Guyana and Jamaica.
The inaugural flight arrived to loud cheers at Guyana's Cheddi Jagan International Airport with its executives declaring that the airline will be Guyana's #1 carrier and will succeed. Chief Executive Officer of Fly Jamaica, Guyanese pilot Captain Ronald Reece told the launching ceremony that the airline will create the much-needed air bridge between Guyana and Jamaica.
He said both Guyana and Jamaica have a lot to offer and will now be able to work hand in hand with the direct linkage through Fly Jamaica. Captain Reece the carrier will work with local officials to ensure increased tourism especially in the Guyana market. Mr. Reece said he looks forward to the full support of Guyanese.
The inaugural flight arrived on schedule and the airline is promising that it's on time service will be what will separate it from the competition. Tourism Minister Irfaan Ali welcomed the new airline and said Guyana is a "versatile tourism market" and he is happy that Fly Jamaica has decided to join the route. "I think tonight is an excellent time for us to understand regional integration", Ali said.
The Tourism Minister added that Guyana has seen 15% travel from Jamaica over the past year and he believes that now that Fly Jamaica has entered the market, that number will increase tremendously.
Prime Minister Samuel Hinds said he is happy to welcome the new airline and he pledged the government's support.
Fly Jamaica will be operating flights from Georgetown to Jamaica, New York and Toronto. The carrier intends to launch an aggressive marketing strategy focused heavily on the Guyana market.
A number of Jamaican artistes including Wayne Marshall who serves as an ambassador for the airline arrived on the inaugural flight and offered their best wishes to the new service through song.
Fly Jamaica began its operations in February 2013 with flights between Jamaica and New York. The airline is co owned by Guyanese pilot, Captain Ronald Reece.