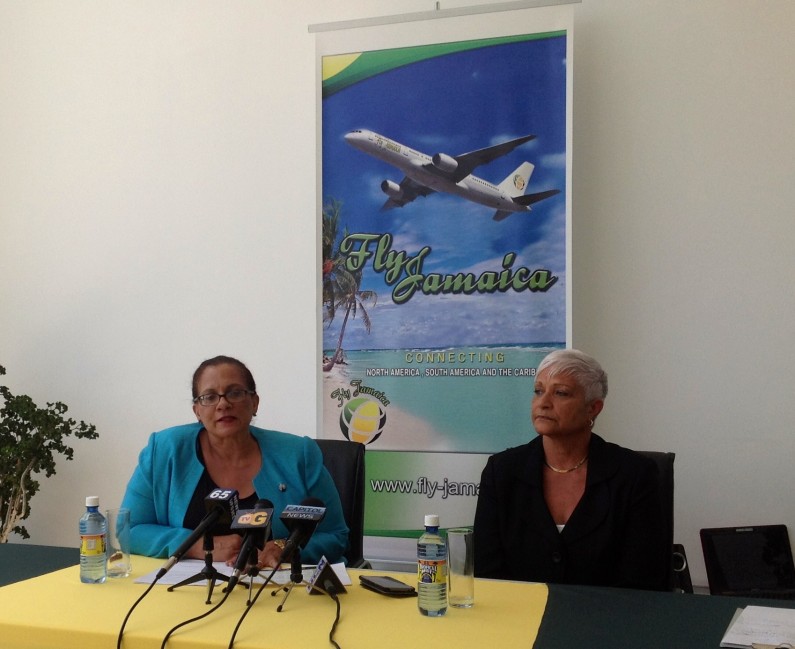 When Fly Jamaica begins its service into the Guyana market from September 26, the airline intends to offer more than just a friendly service in the sky.
The airline which is co-owned by Guyanese pilot, Captain Ronald Reece is looking to promote Guyana's tourism product especially on the Jamaican and North American markets. From September 26, Fly Jamaica will begin offering schedule service from Guyana to Kingston, Jamaica, New York and Toronto.
All U.S bound flights from Guyana will stop in Jamaica while the return flights will be non-stop. The carrier is hoping that it will soon be granted approval from the U.S Authorities to begin the direct flights between Guyana and New York.
At a Saturday morning press conference, Fly Jamaica Director, Roxanne Reece, said the Fly Jamaica experience is going to be totally different for Guyanese travelers. She said the airline is offering a lot more than a normal and traditional legacy airline would offer. According to the Director, there will be specials on fares and promotional events to encourage travel between Guyana and Jamaica.
The airline intends to employ an aggressive marketing strategy as it moves into the market. Already, Fly Jamaica has a number of leading Jamaican singers and personalities signed as Ambassadors for the carrier. Many of them will be used to promote both the Guyana and Jamaica market.
"We are not just sitting and waiting on passengers to come to us, we are coming out there and offering you different events in our four destinations and we are offering you cooking tours, sports tours and more", Reece said.
Mrs. Reece added that the airline is not just about selling seats but it is also paying strong attention to selling tourism and selling the opportunity for persons to travel between Guyana and Jamaica and the other two destinations.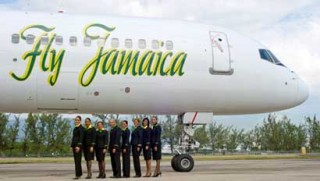 Fly Jamaica began its operations in Jamaica in February of this year and the airline has been performing well. It is betting big on its customer service to lure travelers to its friendly skies. Twenty five Guyanese nationals have been hired as flight attendants and are currently being trained.
The airline's Manager and Director for In Flight Services, Christine Steele explained that Fly Jamaica is focusing heavily on being "customer friendly". She said the airline has hired Guyanese staff and cabin crew from just about every background in an effort to have persons who are on board experiencing a family atmosphere. She said "the difference with Fly Jamaica is that we are going to be customer friendly".
As part of its customer service, the airline will be opening a 24 hour Call Centre in Guyana when it begins its operations. Persons will be able to access information about their flights and make booking at any time of the day through the Call Centre.
Bookings and reservations could also be made at the airline's Guyana head office which is located at the Wings Aviation Company, Ogle Airport and from authorized travel agents.
Currently, Caribbean Airlines is the only carrier serving the New York and Toronto markets out of Guyana. Fly Jamaica Director, Roxanne Reece said carrier also intends to target other markets through partnerships with other airlines.
The carrier will be using Terminal 1 at New York's JFK Airport. Terminal 1 is home to several major international carriers and Reece believes that could serve as an advantage for her airline and persons who may be looking for other connections.
While the carrier has no plans to take on any of the European markets, it is looking to bridge the travel gap between the Caribbean and Brazil. Mrs. Reece announced that Fly Jamaica intends to begin service to the Brazilian market in time for the FIFA World Cup which will be hosted there in  2014.
Fly Jamaica currently operates its own aircraft which is a Boeing 757. The airline is currently in the process of purchasing a 767 aircraft which will allow it to take on more flights.
Details about the airline's Guyana service and flight information are available on the Fly Jamaica Facebook page and its website www.fly-jamaica.com