With the summer travel season approaching and a number of new airlines announcing their entry into Guyana and other Caribbean markets, one of the Directors of Fly Jamaica Airways believe it is time for the people of the Caribbean to give more support to the airlines which are owned by people of the Caribbean.
Fly Jamaica Director Roxanne Reece, in an interview with News Source from the company's Jamaica office said her airline has just acquired a Boeing 767 aircraft which will allow better connections, better service and more options for its customers. She said it is an investment that the company is proud to make since it shows its commitment to strengthening its service and to promoting the regional travel market.
According to Reece, it is time for airlines to work together in the interest of the passengers and the airlines of the Caribbean ought to be supported. "In the Caribbean, the traditional Caribbean airlines, which they are three of us, we need to cooperate together and if we do then we could reduce costs for the consumers and costs for us", Reece said.
In the past few months alone, at least three airlines have announced their entry into the Guyana market. In Trinidad and Tobago, a number of U.S based carriers have been increasing their service to that market while in Barbados, Delta Airlines has announced a return to the island after its departure just over three years ago.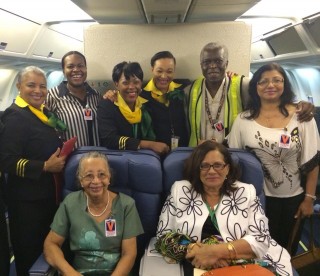 Reece said the point must be made that the airlines which are owned by Caribbean Nationals are the airlines citizens of the region should rush to support since they contribute more to the economy that the other carriers and would also be the ones hiring the most persons from within the region for their operations. She reminded that Fly Jamaica, was the the first airline in recent years to hire Guyanese flight attendants. She said more Guyanese flight attendants will be hired as the airline expands and noted that just recently over thirty Jamaican flight attendants were added to the company's payroll.
The  Fly Jamaica Director was adamant that "Caribbean people have to understand that when they support a regional airline, they are providing jobs and helping to build their own economy", adding that they should not support airlines that are not airlines of the Caribbean. "They are not paying Caribbean people, they are not involved with Caribbean people. You  have to support the airlines of these countries that are contributing to your country that are part of CARICOM so that we can provide employment for our young people", Reece told News Source.
She noted that Fly Jamaica is focusing on spreading its wings to a  number of other markets in the future. Plans are underway to offer flights to several Brazilian cities and eventually the carrier intends to offer tour packages to those vacation seekers who might want to add Jamaica, Guyana and Brazil to their vacation time line.
Currently the airline offers flights from Guyana to Jamaica, New York and Toronto. It flies into the Kingston in Jamaica and intends to soon add Montego Bay, Jamaica to its schedule. The newly acquired 767 aircraft is expected to go into full operation within weeks and will complement the company's 757 aircraft. The new aircraft could accommodate over 250 passengers. Fly Jamaica is majority owned by Guyanese pilot, Captain Ronald Reece.