GEORGETOWN – The U.S Embassy's Public Affairs Section held its second annual Youth Action Network (YAN) Conference June 21-22, 2014 at the Splashmin's Fun Park, Soesdyke-Linden Highway.
Twenty Guyanese Youth Action Network members participated in competence-building seminars in the areas of personal development and goal setting, leadership styles, and strategies to motivate others.  The sessions were facilitated by Mr. Soren Griffith and Ms. Althea Thomas from the USAID-funded SKYE project, Professional Development Consultant Mr. Rawle Dundas, and Ms. Allana McCullock, a member of the National Hockey Team.
The U.S. Embassy in Georgetown has been working to reach young people through youth-based programs such as the Youth Ambassadors Program and Guyana Shines and through social media outreach.
Through the creation of the Youth Action Network in July 2013, the Embassy established a consolidated and more formalized two-way exchange between the Embassy and youths of Guyana.  Under the theme "Ready to Serve, Ready to Lead," the Youth Action Network serves to build youth capacity and skills by teaching the value of service and empowering them to become dynamic leaders.
The YAN provides opportunities to Guyanese youths for networking and training in order to enhance their leadership skills and professionalism.  The YAN brings together youths of diverse religious, ethnic, and socio-economic backgrounds to share their opinions and ideas about Guyana and its future.
In 2013, the Embassy held the first YAN Conference with specific training sessions for youths on public speaking, organization and life skills, creativity, community resource mapping, and project management.  The YAN has also undertaken several activities including three simultaneous community service projects in Linden and an International Volunteer Day activity to benefit the children of Joshua House.  The 2014 YAN Conference served as a starting point for the new administration of the YAN.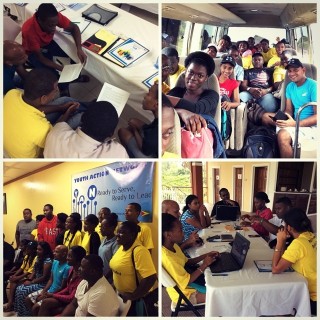 Members campaigned for the months leading up to the Conference and then held elections to install a YAN Council.  As a result of those elections, Lizanna Gordon was elected President, with six other YAN Council members filling the remaining positions: Mark Ross as Vice President, Andrew Kendall as Secretary, Tonza Ward and Rhonda Brotherson as Event Coordinators, Surujdai Mukhram as Historian, and Kadeem Gordon as Marketing Specialist.
The YAN will hold its first official council and general meeting on July 5 to develop a work plan and chart its way forward.  The Youth Action Network will see membership opened once a year and a new YAN Council elected yearly.  The Youth Action Network has already planned its first major volunteer project, where members will team up with visiting U.S. military cadets to take part in a community service project on August 2, 2014.
The Youth Action Network in Guyana is part of a larger, global initiative.  U.S. Embassies around the world are establishing Youth Advisory Councils as a mechanism to partner with emerging young leaders and address shared challenges.  More than 50 percent of the world's population is younger than 30, and the youth demographic will be a major driver of economic and social progress throughout the world.  The YAN is designed to help young people become informed, active participants in their societies.  (US Embassy)