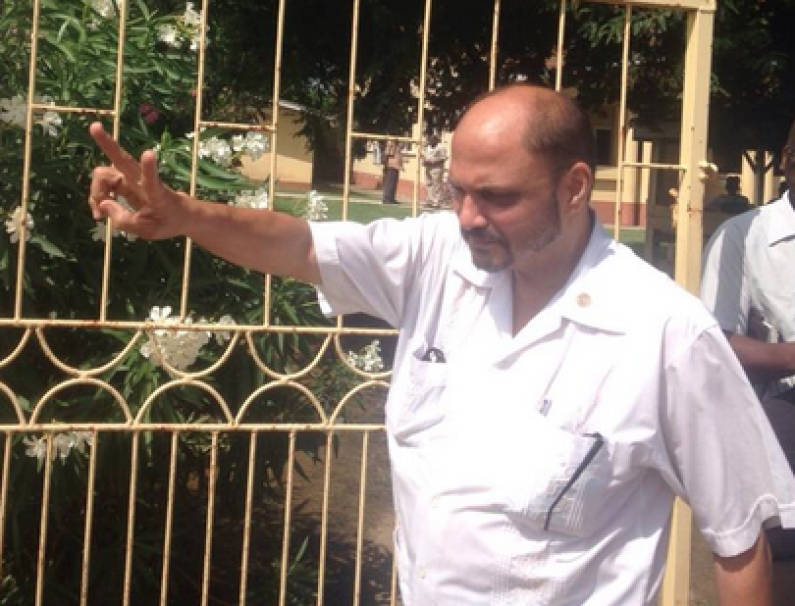 Former Minister of Health under the previous PPP Civic administration, Dr. Bheri Ramsarran was granted self bail this morning when he appeared at the Whim Magistrates' Court in Berbice to answer a charge in connection with his "slap and strip" threats against women's rights activist, Sherlina Nageer.
Ramsarran appeared before Magistrate Charlyn Artiga and was granted self bail after he pleaded not guilty to the charge of using insulting language against the woman.
The Prosecution team did not object to bail and a smiling Ramsarran whipped out a peace sign with his fingers for the cameras as he left the court-house.
It was outside the same Magistrates' Court that Ramsarran threatened to "slap and strip" the activist just for the "fun of it" after she challenged him about his record as Health Minister under the PPP and the high number of maternal deaths under his watch.
An incensed Ramsarran was caught on an audio recording calling the woman a "piece of sh&t" and an idiot as he warned her to get out of his face.
The incident forced former President Donald Ramotar to fire the Minister as local and international groups strongly criticized him for his statements.
He is expected to return to court on September 21.