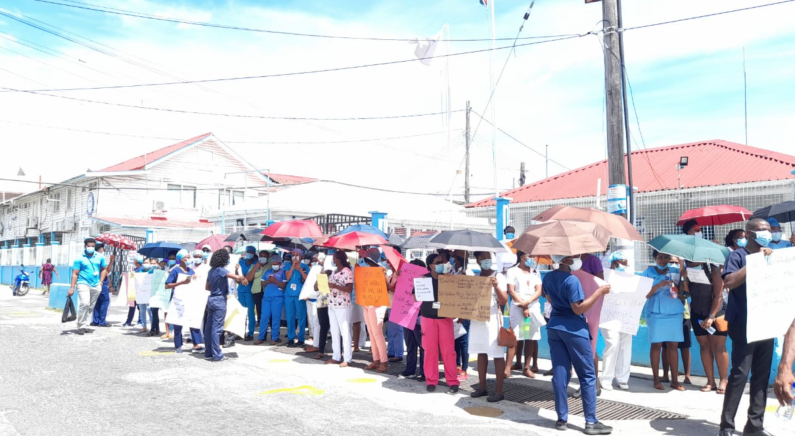 Upset with its over 150 healthcare workers who protested last Friday, the Georgetown Public Hospital Corporation has issued a warning to the health workers about illegal protest action.
In a Saturday statement, the GPHC said the protest was instigated and coordinated by the Guyana Public Service Union and was done without proper industrial relations practices.
"While, we remain committed to timely and constructive engagements to consider the requests of our health care workers we strongly advise them to refrain from accepting inappropriate advice and abandoning their duties to support further illegal protest action until every avenue provided for in the relevant legislation is exhausted. Until such time, further protest action(s) remain illegal and may attract punitive action", the GPHC warned.
Armed with placards, the nurses, medical technologists and other healthcare workers protested for just over an hour just outside of the hospital, loudly voicing their concerns about the need for increased risk allowances and better salaries along with improved working conditions as they remain on the frontline in the fight against the COVID-19 pandemic.
The hospital said it is concerned that in the height of the pandemic in Guyana, its healthcare workers have resorted to measures that can only aggravate the current situation and place addition challenges on the country's fragile public health system.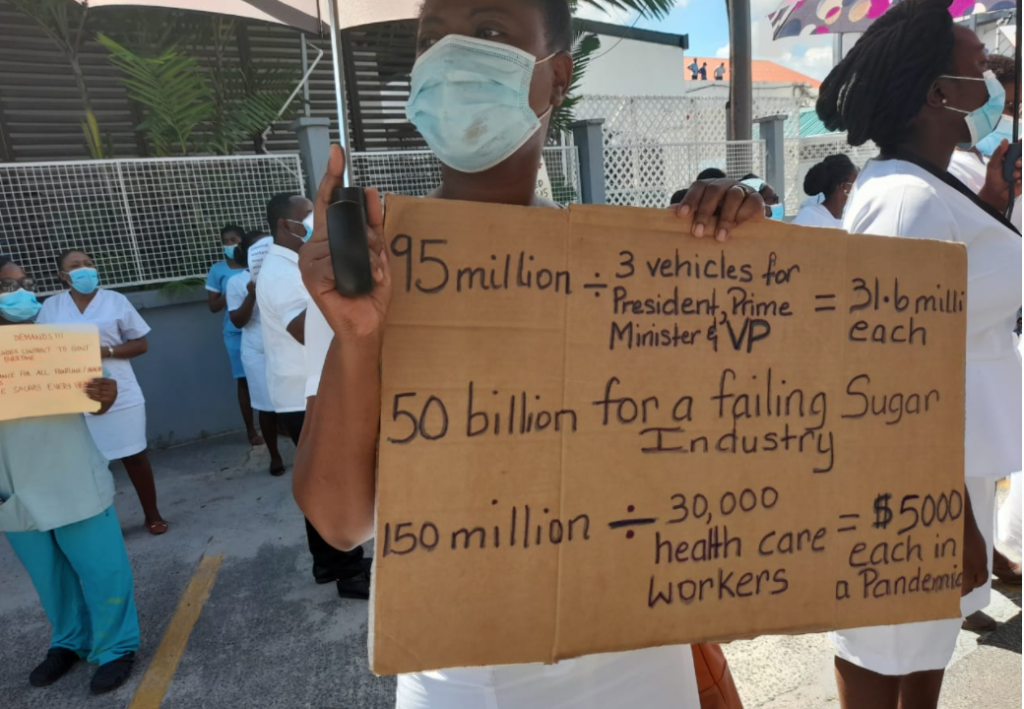 "Management wishes to state that protecting our staff as this pandemic evolves remains our top priority, consequently we have in the past and continue to provide appropriate Personal Protection Equipment (PPE) in order to equip our staff members so they can provide safe, efficient and effective care to our patients while at the said time doing so in a safe environment. Management further wishes to state that it has and continues to provide risk allowances to staff members in accordance with the provisions catered for in Public Service Circular NO PS: 20/19. We intend to continue to provide those provisions for all workers at the GPHC, in accordance with the stipulated regulation", GPHC said.
The hospital prefers that its staff follow industrial relations practices and procedures in accordance with the Public Utilities Undertaking and Public Health Services Act.
It wants healthcare workers to conduct their work in a professional manner.