The largest party in the coalition government is of the view that the Guyana Manufacturers and Services Association must share the blame for the "hooligan type" protest against the President during the GMSA luncheon on Thursday.
Executive Member of the People's National Congress Reform, retired Chief of Staff, Rear Admiral Gary Best at the party's weekly press conference today said the GMSA and its members must condemn the act of "clear and present danger by some of its members" during the event at the Pegasus hotel.
President David Granger's speech was interrupted by loud protests in the Savannah Suite of the Pegasus led by PPP Members of Parliament, Juan Edghill and Nigel Dharamlall.
"The party's position is that the President was invited to a GMSA event. At the outcome of the event and the antics by the People's Progressive Party suggest to us in the clearest of terms that this was something orchestrated by the GMSA to embarrass the President", Mr. Best said.
The PNC official also spoke about the reported threats that were made against the Foreign Affairs Minister as her vehicle was blocked by the PPP protesters from entering the compound of the GMSA event.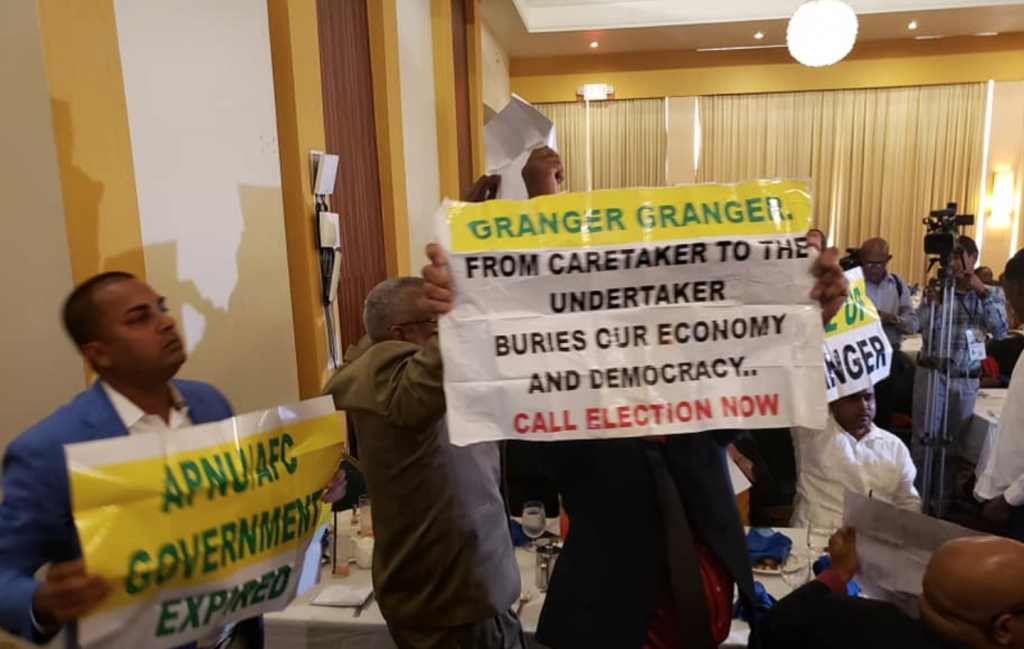 Best said "freedom of choice, freedom of expression and freedom of association goes both ways, the freedom to protest and the freedom for persons to enter into public spaces to give speeches and to do their work".
Rear Admiral Best said it is a true sign of progress that under the current government, no protester has been harmed during the coalition's four years in office.
He reminded that under the PPP government, protesters were shot dead and faced water canons and pellets.
The People's National Congress said it is urging Guyanese on the social media platforms to be cautious of tensions in the country and to be mindful of hateful and inciteful comments.