The Guyana Gold and Diamond Miner's Association (GGDMA) is convinced that gold production targets for 2014 will not be met and the Association is calling on the government to put systems in place to further assist the sector.
The gold mining sector has been performing well over the past few years. Gold declarations however, have fallen this year and that has raised concerns about the sector. Coupled with falling gold prices on the international market, the GGDMA is hoping for government's help.
The Association said it had asked for Government's intervention in order to ensure the sustainability of the mining industry, and sought to do this by requesting the following several concessions which included:
Reduction of rental payments by 2% for small and medium scale miners once the price for gold is less than $1,400 USD.
Duty free allowance for spare parts on equipment which already enjoy duty free tariff status i.e.; excavators etc. This must be extended to the Small and Medium Scale Miners. Large Scale miners presently have this concession.
Reduction of the tax vis-à-vis the price of fuel
Reconvening of the inter-ministerial task force that is supposed to meet, discuss and make recommendations to his Excellency President Ramotar.
"The Association perceives there have been a breakdown of communications as it refers to the Ministry statements on duty free for spare parts on equipment, and the reduction of tax on fuel.  For the record, these statements can be deemed partially accurate, but the concessions are only extended to large scale miners and not small and medium scale", the statement said.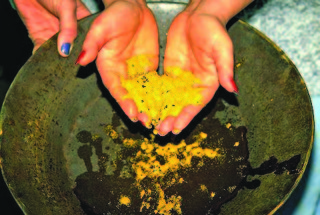 The Association said while it appreciates the hundreds of millions of dollars voted for the maintenance of roads in the interior, bureaucracy has created a situation whereby only 25% of the monies allocated has been utilized to date.
According to the mining body, "the fact that the tenders for roads are published in January eg. of a given year, and approval for these tenders take four to five months significantly affects the bill of quantities, since the roads would have deteriorated further from the publication of tender to the award necessitating ads for new tenders."
The Association said it is grateful for the intervention of President Ramotar with regard to the granting of a license to import fuel but at this present moment, it is not advantageous to the industry to commence importation. But the Association said it hopes to begin fuel imports in the future.
"Mining has been the major economic earner for the country over the past few years but this year it is certain that the Industry will miss the production target, as a consequence, monies earned by Government would be less than that of the past year and the development of the industry can be brought to a standstill without Government's intervention", the statement said.
Filed: 4th December, 2014