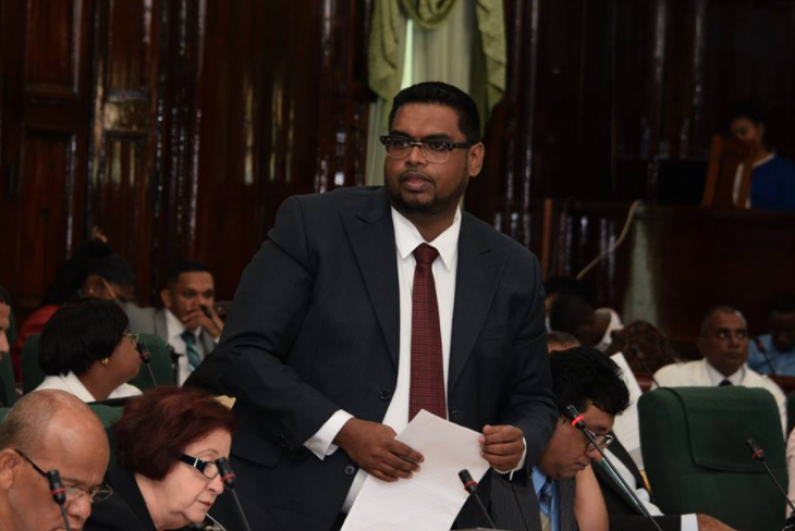 Opposition Parliamentarian Irfaan Ali, opened the debates into the 2018 National Budget and set the tone for the Opposition's response to the government's fiscal plan, which the People's Progressive Party believe is a "slip and slide Budget."
Off to a heated start, while pouring cold water on the government's promise of a good life for all citizens, Ali said all productive sectors have declined since the APNU+AFC government took office in 2015.
"It is a widely accepted fact that the economy has lost its vibrancy since 2015 and continues to limp along towards the elusive good life concept."
This is evident from the suboptimal growth registered over the past three years," Ali told the National Assembly.
The former Minister reasoned that the apparent suboptimal performance of the economy is not accidental but may be attributed to poor policy decisions and gross mismanagement by APNU-AFC government that caused traditional sectors to underperform.
He said the budget is devoid of any measure to rescue the ailing economy or improve the well-being of Guyanese and lacks creativity and innovation.
As he questioned the members on the government side on their delivery of the 'good life', Ali said the promise of the good life was merely a "good lie."
"Whether the people of Guyana are prepared to risk their well-being for this hollow good life promise is something that will be determined when we return to the poll in 2020. This is hardly likely given the many broken promises by the APNU-AFC government," Ali said.
Ali proceeded along the line of pointing out several groups of citizens, which the Budget measures have seemingly ignored. He identified parents of school-age children although the government has reversed VAT on educational services, pensioners although the government raised old age pension by $500 and businesses although there were concessions in the budget to support businesses and the private sector.
Mr. Ali did not leave out the thousands of sugar workers who were displaced from the downsizing of the sugar industry. He argued that the poor performance of the sugar sector may be attributed to the "callous decision" of the government to downsize the industry. Turning his attention to rice, Ali said the government's decision to abandon the PetroCaribe agreement also retarded the rice industry. Sticking to his rhetoric of administrative mismanagement, he believes the traditional sectors are not the only casualties but businesses generally.
"This government has made the environment so toxic that the ease of doing business ranking of Guyana slipped to 126 in 2017 from 124 in 2016."