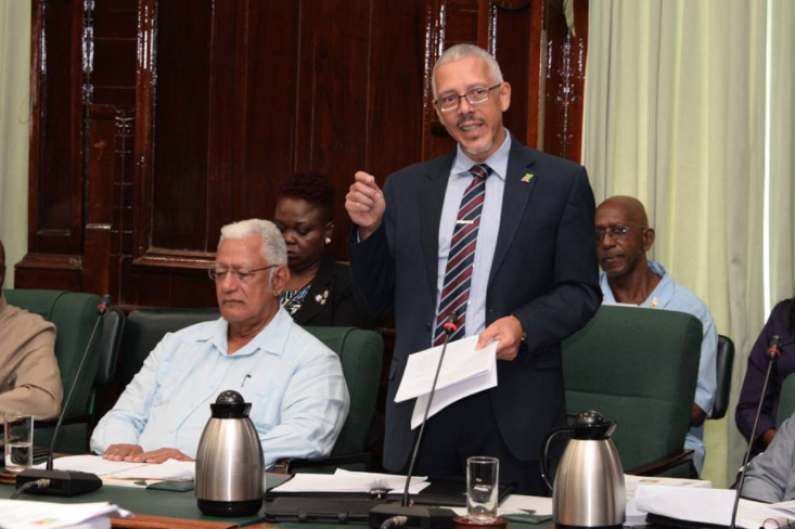 A new electronic single window system, geared towards ensuring a better flow of information between business and regulatory agencies, is expected to tackle corruption when it is operationalized in 2018.
A budgetary allocation of $10 million has been included in the 2018 budget, that once approved during the considering of estimates, will help with preparatory work for the system.
Business Minister Dominic Gaskin praised the government's move to offer to fund for the first time to the system although it is to be fully funded by a $21 billion loan from the Inter-American Development Bank.
Gaskin, while making his contribution to the 2018 budget debates, stressed that the system will enable the better flow of information but noted that above that it is expected to tackle instances of corruption.
He said the system will reduce any situation for interference and will also register interference when it occurs.
Above that, the system is expected to support moves by the government to ensure ease of doing business in Guyana.
Along this vein, Gaskin announced that there will be a collaboration between the Department Housing and other associated agencies to issue building permits to contractors.
To facilitate this, the Ministry will rationalize an application process that promises to be time-bound and efficient.
Gaskin was the first government MP to make a presentation on the 2018 Budget during the weeklong debates which kicked off on Monday.
Minister Gaskin believes the budget measures build private sector confidence even as he reflected on his Ministry's work and performance in 2017 in the allotted time he had to speak.
But Mr. Gaskin received flack from Opposition MP, Joseph Hamilton for failing to adequately report on his accomplishment.
The PPP/C Parliamentarian said the Minister must do better to report on his actual achievements rather than what is to happen.
Hamilton criticised Gaskin for a low competence level, saying he has failed to deliver projects in a timely manner.
"The Minister is even unable to build his home on time… monies were appropriated for rehabilitation of the Ministry building on South Road since last year December," Hamilton pointed out.
He said execution rate is terrible and this amounts to a huge failure on the government's behalf.
Hamilton said the Minister must take the blame for this failure because he is the one task of implementing policy.
"The failure of one Minister to ensure we build a prison on time, cost us the burning os Camp Street Prison, tragedy, and travail… so that is what failure does."
 Hamilton said every time the Minister speaks he is always forced to reflect on Anansie stories he heard as a child.
"Is it stupidybill or sensibill?"