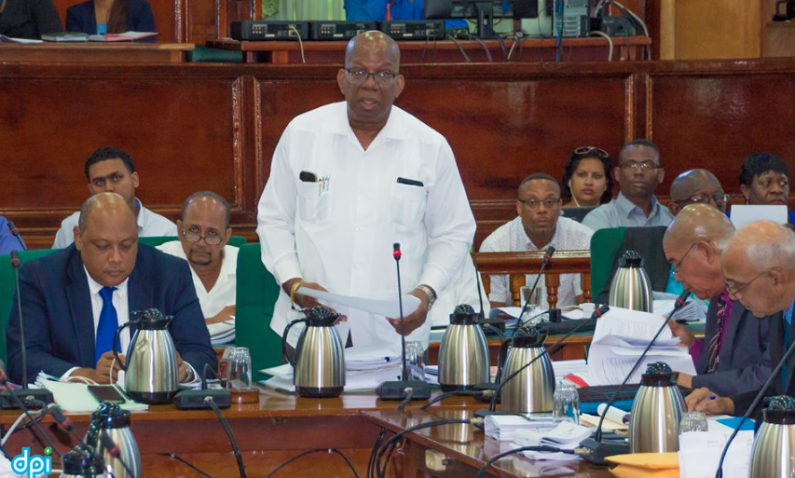 The Government and Opposition clashed on Thursday in the National Assembly as attempts were made to approve budget estimates for 16 Constitutional agencies.
People's Progressive Party Members raised questions relating to why the requested estimate for several agencies was reduced in the proposal put forward by Finance Minister, Winston Jordan.
The House had agreed previously that there will be no debate or consideration on the budget estimates for Constitutional agencies.
However, that was not the case as the Opposition insisted on its right to ask questions and make comments.
The first agency up for approval was the Parliament Office. The requested expenditure was $1.7 Billion but the Finance Minister has proposed that the Office be granted $1.5 billion for the 2017 fiscal year.
Opposition Chief Whip Gail Texeira questioned why the reduction to which the Minister explained that it was based on the fiscal profile developed for 2017 and the assumption for revenues and borrowing.
Minister Jordan said the requested sums must match revenue income and the country's ability to borrow.
The Opposition continued to press the Minister for an explanation on the reasoning that went into reducing the requested sums.
Several Government Ministers including Foreign Affairs Ministers Carl Greenidge and Prime Minister Moses Nagamootoo defended the Finance Minister's recommendation.
Despite the explanations from the government benches, the Opposition members continued to differ with the interpretations.
The government was also grilled on its recommended reduction to the request by the Guyana Elections Commission, especially since House to House registration is to be conducted next year.
It only led to reiteration by the Finance Minister that the recommended expenditure was in the context of fiscal space.
The government is expected to approve the budget estimates for all 16 agencies and will present the National Budget by December. (Kurt Campbell)