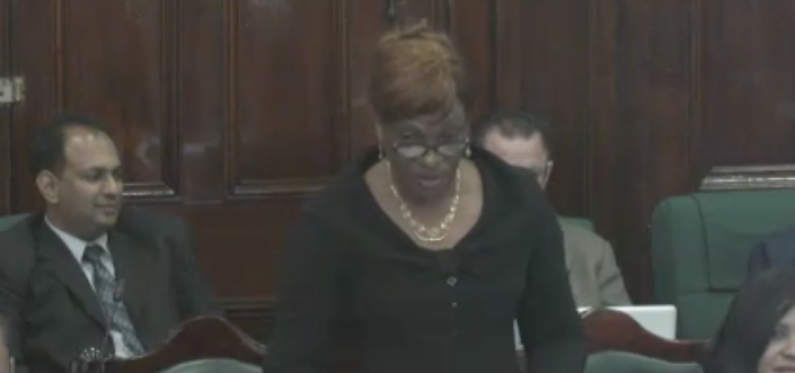 People's Progressive Party Member of Parliament and former Government Minister, Dr. Jennifer Westford wants all right thinking Guyanese "to reject this apology of a budget".  She made that declaration during her arguments against Budget 2017.
Westford, who is currently facing multi million dollar fraud charges in the courts, told the National Assembly that the coalition government needs to do more to deal with the crime situation facing the country.
She said the government has failed to deal with crime in a comprehensive manner.
"Our dear citizens continue to live in fear of being robbed, being raped or even murdered as crimes continue unabated in spite of government's A – Z crime plans Mr. Speaker, our private secator is reeling under the assault of criminals and businesses are spending hundreds of millions of dollars with respect to adding more security this has become an added cost that will be passed down the line to the vulnerable consumer. Once again, another burden on the poor. All of this due to the failure of government to deal with crime in a very comprehensive manner", Westford said.
Dr. Westford and her former Personnel Officer were slapped with multiple fraud charges in connection with hundreds of millions of dollars that cannot be accounted for at the Ministry she headed and under her watch. She is also facing charges in relation to the attempt to change over a number of government vehicles to her private use just before the government changed.
The former Public Service Minister also complained about the health situation at public hospitals and said even men with "goadie" find themselves having to join a line to have their condition corrected. She said many persons turn to the public health care service because they cannot afford the private hospitals.
She said the government needs to withdraw the budget completely, as she criticized the addition of the 14% value added tax to electricity bills over $10,000 per month and water bills which go over $1500 per month.