The Ministry of Natural Resources is moving to have more mining lands made available to miners on a leveled playing field.
Many miners have complained in the past about being given mining lands that were empty. Minister within the Ministry of Natural Resources, Simona Broomes, told the National Assembly on Wednesday that the government intends to change that.
"The Government will open the door for small miners in clusters. Be it you in the wheel chair, be it you in the media. As long as you are a Guyanese, the national patrimony and the wealth of the country belongs to all of you."
She also told the National Assembly that by 2020, the entire country would be mapped for all of the 40 known minerals with some $2B being earmarked for that project.
She said the administration intends to ensure better management for all mining operations nationwide. Broomes said for too long, many miners have found themselves sufering and "the Government recognises the great contribution of the miners and mining, I want to say to you that the Government is worthy of your contribution."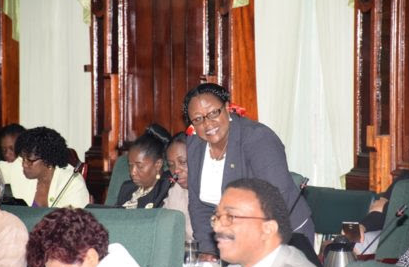 Broomes is herself a former miner, told the National Assembly that women miners still face hardships in the mining communities and the government will do more for women miners and all miners.
"If you ask me which side I'm on, it is the miners' side because the Government is on the miners' side. We are a Government for the people, and all the people".
The mining communities will also see more monitoring by officers of the Guyana Geology and Mines Commission.
The Assembly was also told that the 2017 budget caters for several development works in mining areas to make it better to both miners and residents of the areas. Additionally, the University of Guyana will also be paying more attention to mining related programmes and courses.
Guyana recorded its highest gold declarations in 2016 for over a decade.