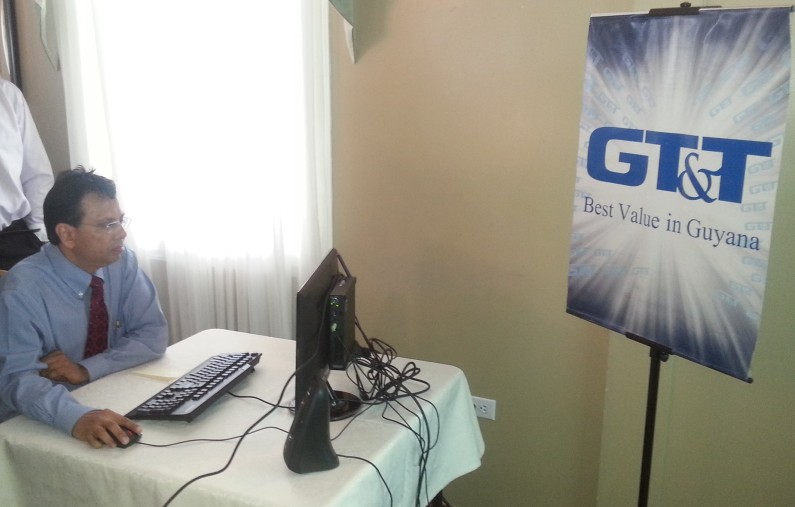 The Guyana Telephone and Telegraph Company wants its customers to move away from the regular post delivered paper bills and sign up for its new e-billing system.
The online billing service was launched on Thursday morning at the Cara Lodge. It allows customers to sign up using their email address, to receive their postpaid landline and cell phone bills via the internet rather than through the mail.  The service is free and allows customers to view all their telephone details including their current telephone charges, previous bills, payment history, account balances, due dates or call details.
The new service could be accessed through the website www.myaccount.gtt.co.gy. Once there, customers can easily sign up for the service. Company officials said sign up is easy and once customers sign up for the service, they will stop receiving paper bills through the mail.
According to the telephone company, with the new platform, "GT&T post-paid customers can now experience the convenience and ease of access to their telephone bills online using any internet enabled device including smartphones, iPads, tablets, and laptops". Additionally, customers will be able to live chat with GT&T representatives while they are in their e-billing account.
GT&T's Chief Executive Office, RK Sharma, told the media conference for the launch of the service that his company is proud of the move and will be launching two new initiatives soon to further push mobile technology.
He explained that through GT&T Mobile Money system, the company will be setting up point of sales that will allow customers to use the credit in their mobile money wallet to make purchases at supermarkets and other businesses across the country. That new service should be unveiled within months.
For the E Billing service, the company said, the registration process is very simple, secure and easy to follow.  Customers will require:
Their telephone number
Their telephone account number
An invoice number from a telephone bill within the last three months.
Upon successful registration, a notification will be highlighted, and a temporary password will be sent to the email address of the applicant. After entering this temporary password, the applicant will receive a prompt to change the password. The applicant will then login with this new password to access their account.
Once registered, the customer can add accounts (other postpaid telephone numbers) to their profile and management them from one login ID.
GT&T says it sees "this service as very convenient not only for our residential customers but also corporate customers who will be better able to integrate and manage their telephone accounts with ease and convenience".
 According to the company, the introduction of this service is the first phase in GT&T's move to offer a complete electronic Telephone Account Management platform for customers as we move to introduce new technology and improve our customer service.