With matching umbrellas bearing the colours of the national flag, Executives of the Guyana Teachers Union walked into conciliation talks with the Ministry of Education and the Labour Department this afternoon, but less than two hours after the meeting was over as the two sides could not agree on a way forward.
The Ministry of Education wants conciliation to continue as part of the collective bargaining agreement.
But the Guyana Teachers Union has indicated that it is ready for arbitration, pointing out that the Labour Department disqualified itself as an impartial mediator, when it attended previous negotiations between the Education Ministry and the Union and offered advice and opinions.
Following the meeting at the Labour Department on Brickdam, GTU President Mark Lyte, said the Union would be willing to call off the strike completely if the Education Ministry agrees to move the process to arbitration.
"The ball is in their court, we have indicated to them that if they call us midnight tonight, we will be ready", Lyte told reporters.
Chief Education Officer Marcel Hudson hurried out of the meeting but briefly expressed a desire for the strike to come to an end. He said "we want our children in school", as he entered his vehicle, indicating that the Education Ministry will make known its position on the issue soon.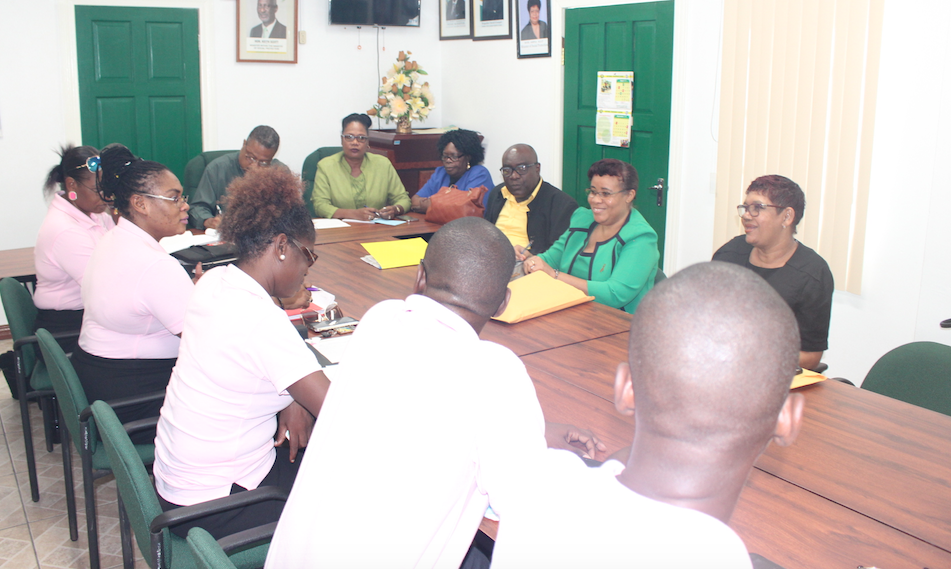 During the meeting today, the General Secretary of the Guyana Teacher's Union, Coretta McDonald read a full statement to the Chief Labour Officer, detailing the union's position.
In that statement, the union provided some of the terms of reference that it would like to see as part of the arbitration process. It would want an inquiry into what led to the salary dispute and strike and for evidence to be provided to come up with a final award for salary increases.  The union has indicated that the award would be binding to both sides.
For the process to move to arbitration, both parties would have to agree.
Today marked the third day of strike by teachers across the country as they begin their pre-commencement activities for the new school year which begins on Monday.
The union is pushing for a 40% salary increase in keeping with the recommendations of a Presidential Task Force, however, it has indicated that it is prepared to negotiate downwards.