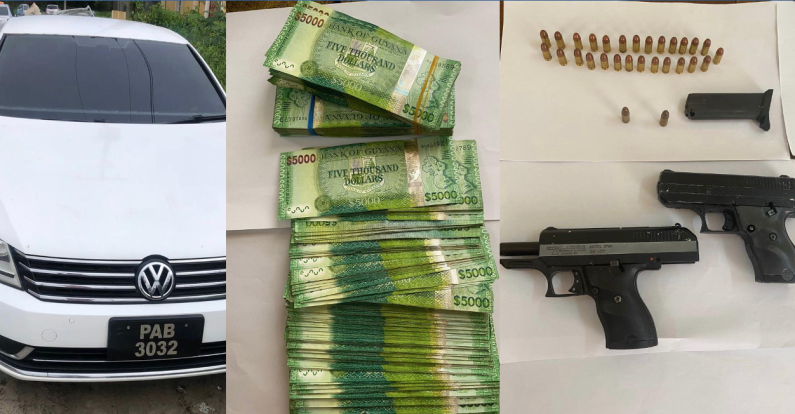 A number of employees of the Ministry of Health's Diamond bond were arrested today as investigations continue to reports of larceny at the bond.
One of the employees arrested is facing additional investigations and charges after two guns with ammunition were found in his car along with a large sum of cash, during the larceny probe and he made two attempts to bribe police officers who were conducting the investigations.
In a statement, the Police explained that while it was conducting the larceny probe, it searched a car belonging to one of the suspects. In the car, the investigators found a 9mm pistol without a magazine and two rounds of 9mm ammunition.
The investigators also found a .38 pistol with a magazine containing seven matching rounds and a large quantity of cash along with other ammunition.
The vehicle owner while being cautioned about the offence, requested that the officers strike a deal with him before the matter reaches the station.
The man and the other staffers were taken to the Golden Grove Police Station where they were placed under arrest.
It was while there that the man offered investigators over $1.7 million in cash to not charge him. When he was told of the offence of attempting to corrupt an officer, the Police said the suspect increased his offer to over $4.5 million in cash, which was found in the bag in his car.
He was told of an additional bribery charge and kept in custody.
Investigators have now broadened their probe into the larceny at the Government bond and the discovery of the guns and ammunition and large sum of cash in the vehicle of one of the employees.