The Minister of Finance, Winston Jordan and Chief Executive Officer of the Caribbean Development Fund, Rodinald Soomer, signed a Loan Agreement this morning which will effectively see 175 farmers from communities in Regions 4 and 5 benefit from improvement to agricultural infrastructure.
The loan agreement will see a total of just over US$12.4 million being allocated for agricultural diversification, the promoting of agro businesses, and sustained agriculture in the earmarked communities.
In his remarks, the CEO of CDF, Rodinald Soomer, said that it was "truly heartwarming on the eve of Christmas" to be in Guyana to sign the first agreement of CDF's second subscription cycle.
He noted that the agreement delivers US$10.4 Million of concessional assistance to Guyana for the purchase of farming equipment, the restoration and upgrading of drainage and irrigation canals as well as the installation of a pump in one of the specified farming communities.
These communities are Ithaca, Buxton, Triumph and Mocha. Some 175 farmers (Male and Female) hailing from these "economically challenged" areas are expected to benefit from the loan deal.
Mr. Soomer continued that the identified areas are plagued by high levels of youth unemployment while they have a history of agricultural production which was reduced because over time, the lands were left neglected because of poor drainage and irrigation.
The project is targeting areas with a combined populace of 1200 farmers which could potentially affect the lives of 35000 individuals.
The CDF CEO pointed out that 155 km of canals and drains will be constructed while, 40 km of "fair weather" dam and a pump station will be established, this will allow for farmers to reclaim 2500 acres of abandoned land.
He continued that the investment in Guyana was made possible by the Government of Guyana contributing US$ 3.8 Million which in turn allowed the country access to US$ 10.4 Million.
The total cost of the programme is US$ 12.43 Million which includes the contribution from the Government of Guyana.
Meanwhile, Minister of Agriculture, Noel Holder said that the intervention will see a much needed reduction of unemployment and increased income in these communities.
Minister Jordan expressed his pleasure at seeing the signing come to realization which allows for the improvement of the earmarked areas.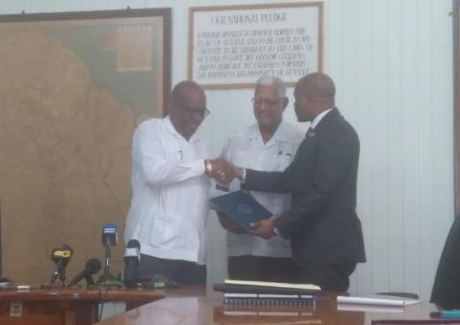 He pointed out that the inking of the agreement is "yet another demonstration" of the emerging relationship between the government and the CDF. He expressed hope that the upcoming project will take an example from the previous CDF funded project in Regions 3,4 and 5 which saw the upgrading of access roads to various farming lands.
Minister Jordan further stated that the project supports the green agenda of government as well as the green pathway which is being touted by President Granger.
This project is the second of three approved projects that is earmarked by the government to improve sustainable agricultural development in Guyana.