President David Granger has lauded the cooperation between Guyana and the European Union and has indicated that Guyana attaches the highest priority to the relations with the EU.
Speaking at an event on Tuesday evening to celebrate Europe Day, the President said the EU has been a valued partner in human and economic development, particularly for small, developing states.
"Our long-standing relationship has been cemented within the ambit of successive Lomé Conventions and the current ACP-EU Cotonou Partnership Agreement," President Granger said.
He said Guyana was honoured to have been accorded the responsibility to lead the negotiations on behalf of the Caribbean as he reminded that Georgetown was the site for the signing of the Georgetown Agreement on June 6, 1975.
That Agreement marked the conception of the African, Caribbean and Pacific Group of States (ACP) which has enjoyed a vibrant partnership with the EU, commencing with the first Lomé Convention of 1975.
Guyana has since benefitted from trade and developmental cooperation with the European Union in diverse fields – including agriculture, coastal zone management, education, health, housing, infrastructure development, public financial management reform and private sector development, the President said.
President Granger said "the European Union Delegation's presence in Georgetown has facilitated the expansion of collaboration – including through technical assistance, and in the fields of competitiveness, climate change, electricity, gender relations, governance, poverty reduction, rural development, water and youth development".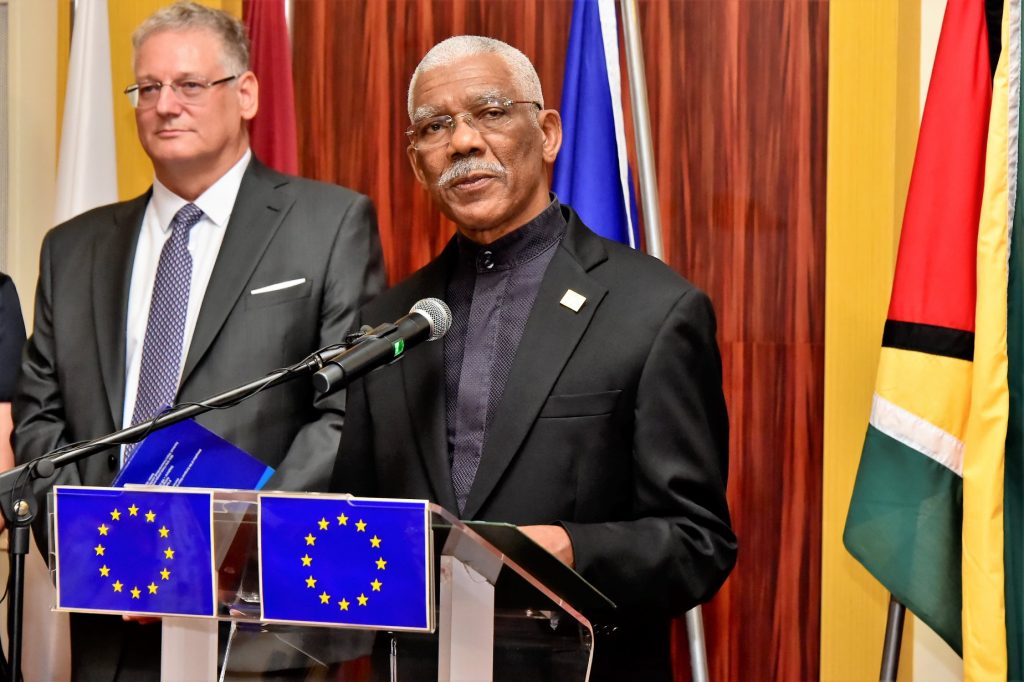 While thanking the EU Ambassador to Guyana for the continuous good relations, Mr. Granger said Guyana is optimistic that its strong, historic relations with the European Union will contribute to the continued consolidation of collaboration and to cooperation with the wider membership of the African, Caribbean and Pacific Group.
Meanwhile, Ambassador Videtič, whose tour of duty in Guyana will conclude in August, said the EU's partnership with Guyana, a member of the African, Caribbean, and Pacific Groups of States (ACP) is strategic while adding that this year represents an important milestone because negotiations for the future EU-ACP Agreement should be completed soon.
A new phase in partnership with the European Union is to start from 2020 and will be based on the existing general policy framework by the European Consensus on Development which is a blueprint which aligns the European Union's development policy with the 2030 Agenda for Sustainable Development.
The Consensus, Ambassador Videtič said, highlights important cross-cutting elements such as: youth; gender equality; mobility and migration; sustainable energy and climate change; investment and trade; good governance, democracy, the rule of law and human rights.
Attachments area