President David Granger and Head of the Delegation of the European Union to Suriname, Trinidad and Tobago and for the Dutch Overseas Countries and Territories, Ambassador Jernej Videtič on Monday gave their commitment to the strengthening of relations between Guyana and the EU.
The commitment was exchanged at a celebratory reception, which was held to observe 'Europe Day', at the National Cultural Centre.
The coalition government also came in for praise for restoring local democracy to the people, through the recently held Local Government Elections (LGEs).
President David Granger and First Lady Sandra Granger along with Prime Minister Moses Nagamootoo and several Government Ministers were in attendance. President Granger, in his remarks, noted that the EU and Guyana forged a special bond four decades ago, beginning with the historic 'Georgetown Agreement' of 1975.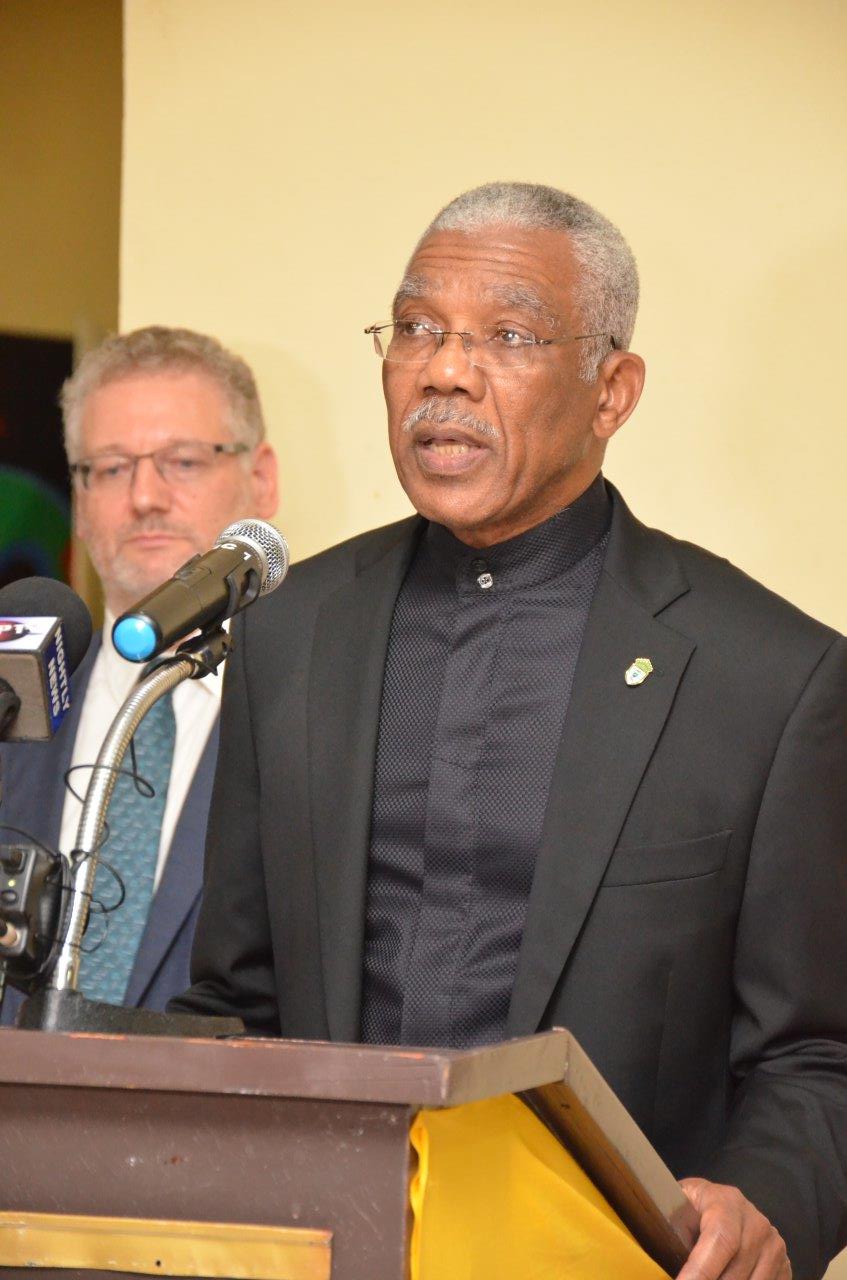 Since then, he noted, Guyana has shared a relationship of mutual cooperation with the regional body in a number of areas. "The European Union is one of Guyana's main trading partners. Guyana exported goods valued at €192 million, or about 15 percent of Guyana's exports, to the EU in 2013 alone," he said.
President Granger said that the celebration of Europe Day 2016 is a beacon to all nations, noting that it shows that the path to peace and sustained security begins with deepening the integration process and with the increase of emphasis on international cooperation.
European integration, he noted, also, has been an instrument for deepening and widening cooperation with countries and other regions of the world and it is to this end that the European Union remains a valued development partner in the Caribbean.
In the meantime, Ambassador Videtič heaped praises on the country and the administration for facilitating the holding of the recently concluded Local Government Elections, after more than two decades. "Here in Guyana on May 11 last year national and regional elections saw a change of administration. I would like to congratulate President Granger and his Government for their success. Furthermore, on March 18, this year Local Government Elections took place or the first time in over 20 years; something which all Guyanese should welcome," he said.
That aside, Ambassador said Videtič that the whole process of integration and enlargement of the European Union has affected people on many levels. He noted that Guyana shares cooperation in a number of areas and it is his belief that these can be further strengthened.