The Governments of Guyana and Ghana have signed a visa-free travel agreement, which will see citizens for both countries being able to travel to each other's country without the requirement of obtaining a visa.
The agreement forms part of several bilateral agreements that were signed today by representatives of the two countries following a high-level meeting between President David Granger and President Nana Akufo Addo and their government teams.
Following the signing, Director General of the Ministry of the Presidency, Joe Harmon, in a brief to reporters explained that under the agreement, citizens of both countries will be able to travel to each other's country and stay for a period of up to three months without the visa requirement.
"This morning we signed the abolition of visa requirement agreement for citizens of Guyana and citizens of Ghana. What this means is that persons who are the holders of Diplomatic, Official and regular Guyanese passports can travel to Ghana and likewise Ghanians can come to Guyana without the requirement of a visa. In the initial stages, they will be entitled to at least 90 days without having to renew, but after 90 days there will be a requirement for renewal based on the laws of each country", Harmon explained.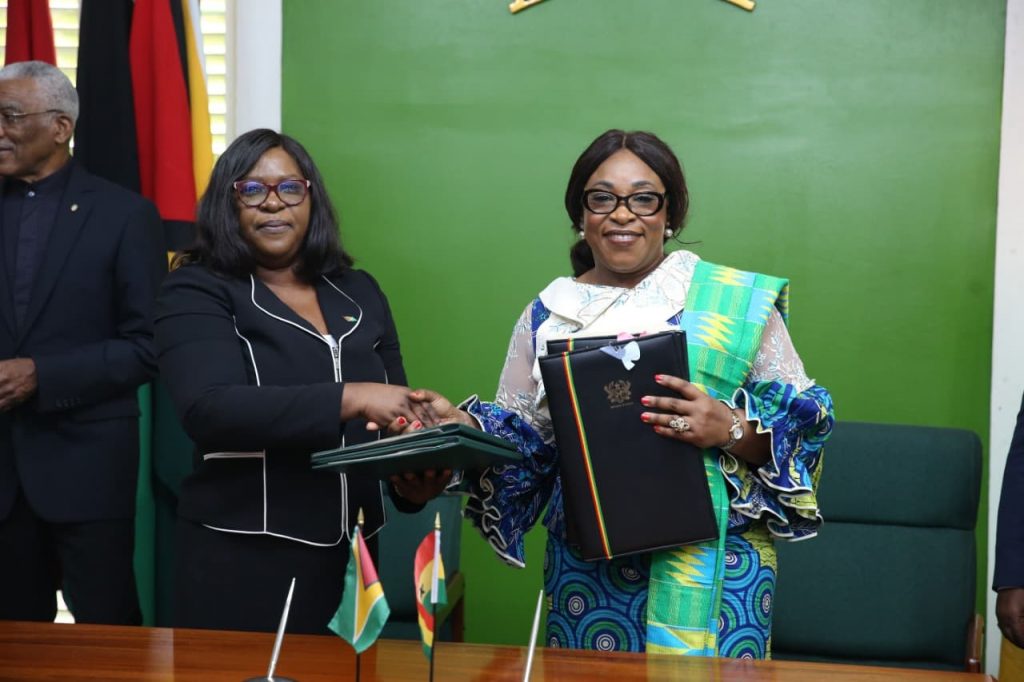 He said the move could see more travel and tourism between the two countries, especially since the open air policy agreement between African nations and the Caribbean could soon see direct flights between African countries and Caribbean states. A direct flight between Guyana and Ghana would take just five hours.
Mr. Harmon also told reporters that the two sides signed several trade and business agreements. Details of those agreements, he assured, will be released.
In the area of trade, Harmon revealed that Ghana has indicated an interest in purchasing rum and wood from Guyana.
Those areas will be examined. The Ghanian President will get a first-hand look at the rum industry in Guyana when he visits Banks DIH Limited and Demerara Distillers Limited as part of his state visit.
Guyana and Ghana have shared diplomatic ties for the past forty years. Mr. Harmon said the visit to Guyana by the President of Ghana has cemented the relations between the two countries.