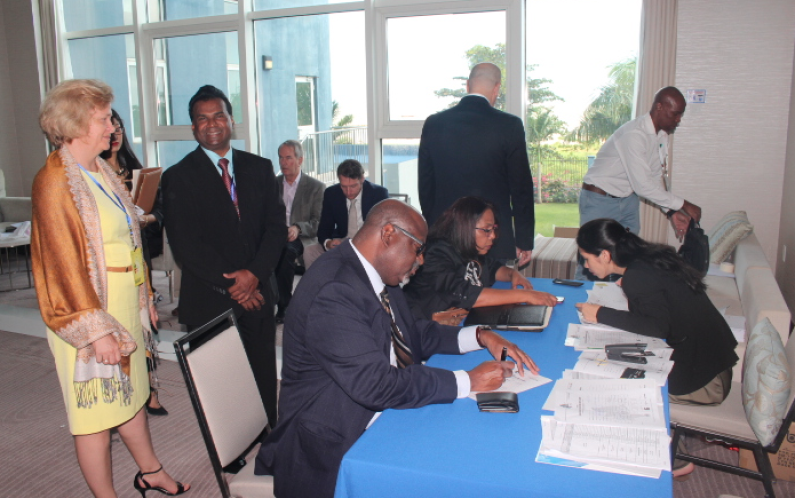 The first Guyana International Petroleum Summit opened this morning at the Marriott Hotel with the Head of the Private Sector Commission, Eddie Boyer, offering the support of the private sector to the development of the sector.
In a speech at the opening of the oil and gas summit, Mr. Boyer said businesses in Guyana welcome the advent of the oil and gas sector in Guyana.
"The Guyanese business community, though inexperienced, is not sleeping. We are aware of the developments and we are educating and informing ourselves about this new sector to grasp every opportunity", Mr. Boyer noted.
The PSC Chairman said Guyanese businesses are prepared to form alliances and partnerships to move the country forward.
Mr. Boyer told the more than 700 delegates attending the conference that the Private Sector Commission is the umbrella body that represents local businesses and the international ones operating in Guyana.
He said the PSC would like to see stability of Guyana as a democracy "and our interest in the oil and gas sector industry maintained with clear frameworks of sector development, strong local content policy and a well managed sovereign wealth fund."
"I urge this forum to see Guyana as an investment opportunity not only in oil and gas but in other critical sectors", Boyer said.
Also at the opening of the three-day forum, the Chairperson of the Guyana Office for Investment, Patricia Bacchus, noted that GO-INVEST is ready and prepared to welcome investors to Guyana and assist with their development in local sectors.
She said Guyana has long recognized the need to diversify its economic base and therefore the advent of the oil and gas sector is very significant.
Ms. Bacchus said she hopes the conference will serve as a springboard for wider economic participation in Guyana.
Over 700 delegates from more than 150 countries are attending the oil and gas forum. Many of them are looking for investment opportunities as Guyana prepares for takeoff as a major player in oil and gas development.