The inaugural Guyana International Petroleum Business Summit opened this morning at the Georgetown Marriott, with a call for more Guyanese businesses to prepare themselves for the benefits that the oil sector will offer.
Delivering the feature address, Minister of Natural Resources, Raphael Trotman, told the more than 700 delegates gathered that the time is now for Guyana to move forward in the oil and gas sector. He said local companies should ready themselves and should also understand that when first oil comes in two years, it "will not be a nancy story".
Minister Trotman said "the destiny of Guyana will be realized. It is our destiny. Ours to hold and ours to enjoy and ours to equally preserve and protect".
He noted that when one looks at the finances that will be coming Guyana's way after first oil is poured, it appears unimaginable at times. Trotman noted that investment must continue in the oil and gas sector, because if left untapped, Guyana will walk away with zero.
"This is no nancy story, this is very real", he said, as he painted a story of Guyana finally being able to realise its many potential in the oil and gas sector and overall development.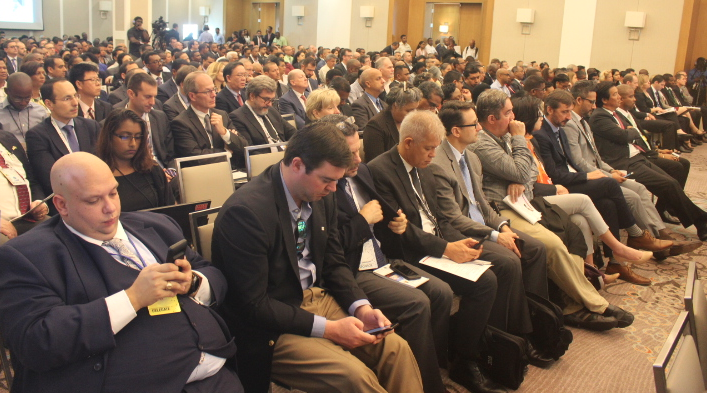 The Government, he said, is keen to see development in the sector and will therefore lend assistance to those looking to invest and play a role.
This Oil and Gas Summit has been billed as Guyana's premier annual international oil and gas related calendar activity.
It will seek to create opportunities for networking, investment and capacity building for the local oil and gas sector.
With six significant oil discoveries made in the offshore Stabroek block in just over two years, international attention is being focused on Guyana as the new oil Mecca in this part of the world, according to the natural resources ministry.
The summit is not only expected to showcase Guyana as a vibrant investment destination in oil and gas and energy related fields, but to also highlight opportunities for knowledge transfer and partnerships which can redound to the benefit of local and regional entities that provide services in the oil and gas sector.
The summit is also featuring an exhibition by scores of local and international companies. The exhibition is open to the public, but registration to attend should be completed via the GIPEX2018 Facebook page.