Internationally recognised Diplomat and Guyana's main legal advisor on the Guyana/Venezuela territorial controversy, Sir Shridath Ramphal, has indicated that whatever decision is handed down by the International Court of Justice on the Guyana/Venezuela controversy will be legally binding.
Speaking to journalists during a break at the Oil and Gas Summit in Georgetown on Wednesday, Sir Shridath said Guyana has been advancing the case to go to the International Court of Justice for the past fifty years, pointing out that the Geneva Agreement was signed in the context that the United Nations Secretary General could send the case to the ICJ.
With regard to the legal expenses that Guyana will have to face, Sir Shridath reminded that those expenses will be "minuscule" because everything is at stake for Guyana.
"What is at stake for Guyana is everything and so legal expenses are minuscule to what is at stage", he noted.
He said it is likely that Guyana will reassemble the legal team that was successful with the Suriname maritime case. He warned that this is not the time to discuss those details in public, but added that they will be released eventually.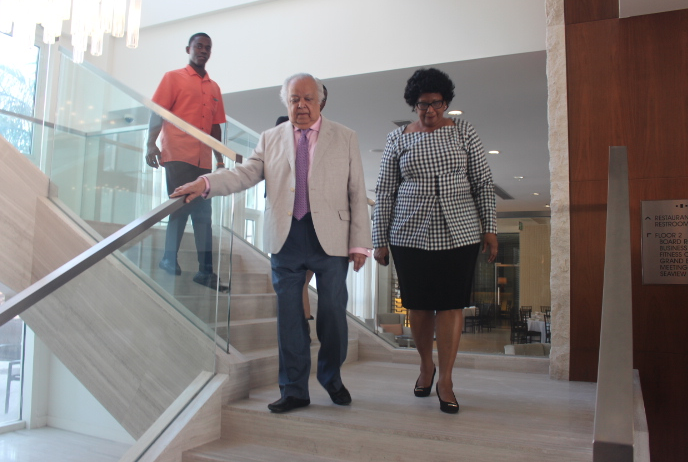 The veteran Diplomat who once served as the Commonwealth Secretary General, said Guyana is moving forward with taking the case to the International Court of Justice and it matters not whether Venezuela agrees to appear before the Court.
Last week, the United Nations Secretary General referred the case to the ICJ after the latest round of the UN Good Offices process failed to deliver any result.
Guyana welcomed the move by the UN Secretary General, but the Government of Venezuela has rejected the move and maintains its claim to Guyana's Essequibo region.
Guyana's President David Granger said the Venezuelan claim has prevented economic development in Guyana for far too long and it is finally time to get "the monkey off our backs".