With Guyana recording 10 domestic violence-related deaths of women in 2014 and more than 20 in 2013, Government agencies and international agencies are increasing their efforts to ensure a more grassroots approach in combating violence against women through legislative enforcement.
At an interfaith service to mark International Day for the Elimination of Violence Against Women, Minister of Human Services Jennifer Webster said that more than 35% of females experience some form of violence in their lifetime.
Minister Webster noted that most acts of domestic violence against women are committed by male relatives in their household.
"Many of our young girls under the age of 15 in Guyana experience some form of sexual violence and abuse in their homes at the hands of their fathers, stepfathers, uncles and other male family members", Webster said.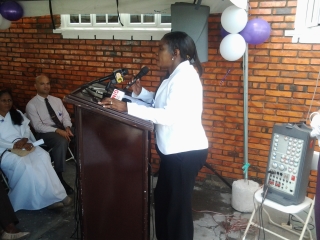 Coming out of an intense campaign on domestics violence a few years ago to "stamp it out", the Sexual Offences Act was introduced in 2010. That act complimented the Domestic Violence Act of 1996 in affording women and girls more legal protection against all forms of abuse.
However, the conviction rate remains relatively low for domestic violence whether physical or sexual. Hundreds of cases are still before the Police Force and the Judiciary.
"Many of our women are still being denied access to justice because it takes time for the investigation process to be completed," Minister Webster said as she called for lawmakers and investigators to act swiftly.
United Nations Population Fund (UNFPA) Resident Representatives Patrice La Fleur, urged greater effort in dealing with the issue since it spreads across social, cultural and economic dimensions.
She quoted the words of UNFPA's Executive Director saying "we can have all the laws and policies but if we do not change our traditions, our norms and values which continue to promote violence against women and girls, society will continue to experience the violations which we see daily."
Ms. La Fleur is currently engaged in a National Plan of Action for Domestic and Sexual Violence which aims to bring life to both the Sexual Offences Act and the Domestic Violence Act.
She told News Source that the plan of action will focus on making the legislation "user-friendly" so that the message of Women and Gender rights could be easily understandable.
Guyana joined the rest of the world and the United Nations on Tuesday to mark International Day for the Elimination of Violence against Women with a call to end the "global pandemic" of aggression against women and girls.
Filed: 25th November 2014