The International Energy Conference and Expo opened this morning in Georgetown with President Irfaan Ali declaring that Guyana's portfolio as an oil-producing nation has not only set the stage for major economic and infrastructure transformation, but also for the lives of Guyanese to be transformed.
During his feature address at the opening of the conference, the President admitted that while Guyana has boasted over the years of bountiful natural resources such as gold, diamond, bauxite, and others, the country never had the capital to build a diversified economy, but that is changing now.
"We have always spoken about the promises and dreams and aspirations of generations of Guyanese. Today, with hard work, simplicity, and humility, we have the ability to make that giant leap not only for Guyana but for all of humanity and we must do it," the President said.
President Ali told the conference that despite criticism, Guyana will develop its oil resources to bring out change that will lead to sustainable growth and development. He said investors must understand that Guyanese must benefit from the sector and their investments.
"We are humbled by this opportunity and we welcome investors local content is not about not welcoming investors. We welcome every single investor, be it Exxon, be it the international investors, every single stakeholder, whether you are regional or international we welcome you but all we are saying is that that space for technological transformation, collaboration, local growth, and competitiveness and increase productivity must be built into the system to bring benefit into the country," President Ali stated.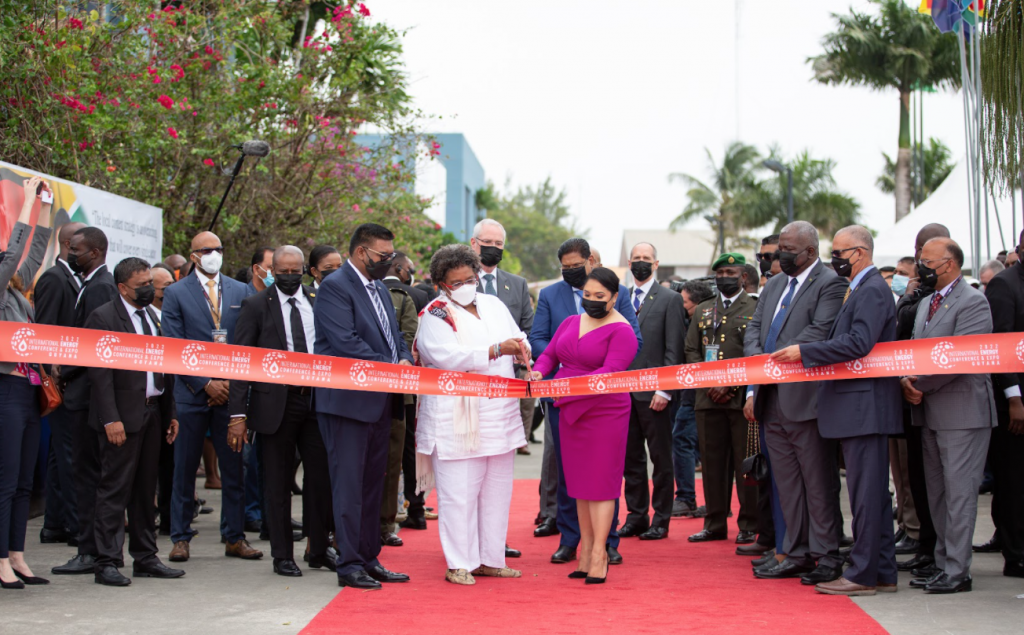 On the issue of local capacity to develop and manage the oil and gas sector, President Ali said that local capacity must be developed because Guyana is now positioned to respond to international challenges and contribute to global solutions
"We have the capacity, we have the capability and we must now work together to find our place and space in bringing global solutions. Yes, we have a small population, importantly a growing population," Mr. Ali said.
He also boasted about the country's Agricultural potential and also urged investors to look into that direction.
The International Energy Conference has brought together more than 500 foreign and local delegates and 150 companies. An exhibition featuring local and foreign players in the oil and gas sector and government agencies is also being hosted at the conference.
The energy conference has come to Guyana at a time when the country is preparing to increase its oil production as a second oil production vessel has started full operations. 
Guyana began oil production just over a year ago and currently produces more than 120,000 barrels of oil per day.