Guyana's President David Granger used his address at the opening of the first plenary session of the International Conference on Financing for Sustainable Development in Ethiopia to make the point that the prevention of the development of a country's resources by another nation could serve as a block to sustainable development.
The President said although Guyana is a small state, it is one that has been committed to sustainable development.
Mr. Granger told the auditorium of world leaders and other diplomats that "security and stability are indispensable to sustainable development and the pursuit of prosperity".
He added that "we resent, we reject and we resist the threat of the use of force or any unilateral coercive  attempt by any one state against an other, in order to frustrate the legitimate aspirations of our people to enjoy a good life".
The President said there must be international cooperation even as a country like Guyana takes on its own responsibility for national development.
"This 3rd International Conference for Development, therefore, must make a fundamental contribution towards the thrust towards greater global cooperation as we embark on an ambitious and transformation post 2015 development agenda that will seek to ensure that no country and no community and no person is left behind"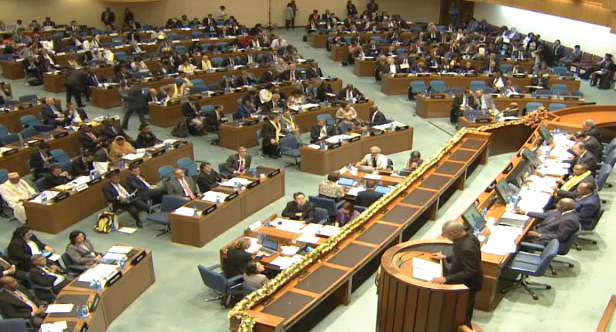 The President told world leaders that they must all work together in global solidarity to tackle many of the global problems in a timely manner if they are serious about sustainable development.
He said tackling the effects of climate change must also be addressed.
"If we are serious about sustainable development then we must be serious in our quest for mitigating the effects of climate change. As a signal of confidence in the collective commitment to implementing the agenda, we will agree next September in New York and aim to reach in December in Paris, a once-in-a-generation agreement that will ensure that global temperature rise is contained within two degrees centigrade", the President noted.
He also pressed the international community on ensuring the development of stakeholders outside of government in addressing many of the issues related to sustainable development.
According to the President,"while Governments must exercise leadership, the requisite actions and investments cannot be executed by Governments alone. Other stakeholders must realise that their efforts will also be essential to delivering the future we want. The enterprise of development must count on the contribution of all segments of the society.  It must empower local communities and harness the talents of the people, especially women and youth."
"It is clear that the achievement of the sustainable development goals will place heavy demands upon all countries. Our efforts to achieve the millennium development goals taught us that significant progress is possible when the international community works together. Developed countries must continue to exercise real leadership in fostering international development cooperation. Developing countries must continue to intensify their own efforts. We applaud those countries that have been unstinting in their support and encourage others to do likewise."
President Granger has joined other Heads of state, ministers and representatives from more than 190 countries.
The Financing for Development conference, which opened today and has brought together about 7,000 delegates, "is not going to talk about figures", according to a UN official.
The conference is expected to deliver a framework, looking at various sources of financing all across the board that can actually underpin and support the implementation of the new agenda.
The U.N. Millennium Development Goals, which started in 2000, expired in December. The World Bank released a report in April saying that to finance the post-2015 agenda, trillions of dollars would be needed.
WATCH President Granger's speech in full by clicking HERE