The Secretary General of the United Nations, Ban-Ki-Moon on Thursday encouraged CARICOM Heads of Government to remain focused and fully engaged in strengthening the partnership for global sustainable development.
The UN Secretary General told the opening of a Conference for Sustainable Development for Small Island States that the year 2015 is a year of global action and they should ensure they are involved in that action. The special conference was being hosted ahead of the opening of the CARICOM Heads of Government Meeting in Bridgetown, Barbados.
"Usain Bolt doesn't stop at 50 metres and therefore we must continue and complete this 100 metres to end global poverty and to address the issue of Climate Change", the UN Secretary General urged.
He said there must be more focus on climate change through sustainable development, adding that the world must work together to tackle the serious issues that may be blocking sustainable development.
Incoming Chairman of CARICOM, Prime Minister of Barbados, Freundel Stuart said CARICOM's aim is to focus the region and international partners on many of the actions taking place in vibrant societies. He said the region must and will continue to seek partnerships that will strengthen their economies and develop their communities.
The Barbadian leader also reminded the Leaders gathered for the meeting that as they focus on sustainable development of small island states, they should also continue to be a source of inspriration for the youths of CARICOM.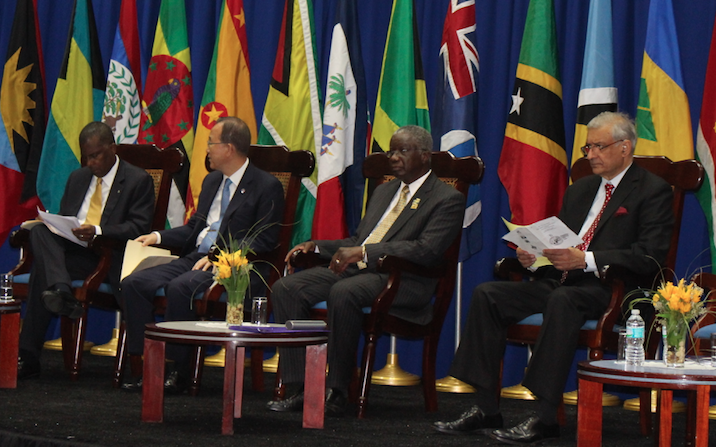 The Secretary General of The Commonwealth, Kamalesh Sharma, also spoke at the opening of the special conference and he made it clear that in encouraging and promoting sustainable development, there must be partnerships to ensure that "no country is left behind". 
According to the CARICOM Secretariat, the meeting is being seen as an "opportunity for CARICOM Heads of Government to engage the UN Secretary General on the Community's sustainable development agenda as attention now pivots three imminent international conferences: The Third International Conference on Financing for Development; the UN Summit on the Post-2015 Development Agenda; and the UN Framework Convention on Climate Change, COP 21, all of which have significant bearing on the future global agenda and the development of the Community." (by Gordon Moseley in Bridgetown)
Coverage of CARICOM Heads of Government Meeting in Bridgetown, Barbados compliments of LIAT Airlines and the Guyana Telephone and Telegraph Company.