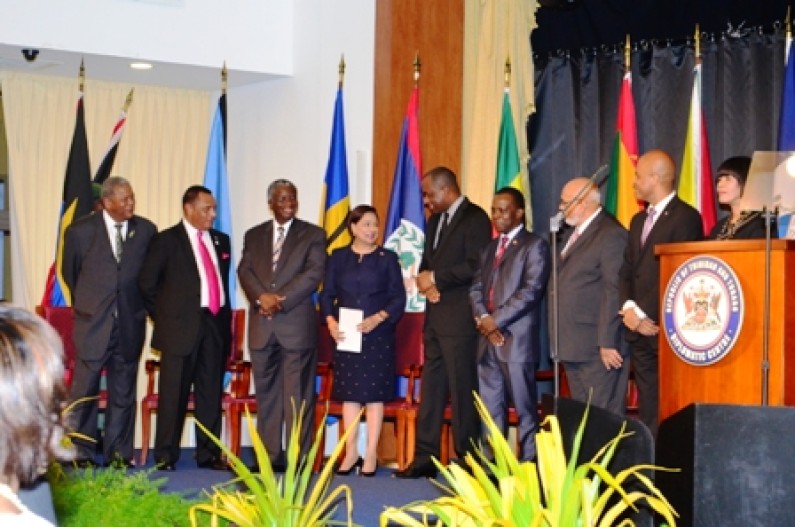 (CARICOM)  Heads of Government of 14 Member States and two Associate Members will gather in St Vincent and Grenadines on Monday at the 25th Intersessional Meeting of the Conference of Heads of Government of the Caribbean Community (CARICOM). Suriname's President, His Excellency Desiree Bouterse, who is the current President of the Union of South American Nations (UNASUR) will be attending the inauguration of President Michelle Bachelet in Chile on Tuesday. Suriname will be represented at Ministerial level.
The opening session of the meeting at Buccament Bay Resort will be addressed by CARICOM Chairman, Dr the Honourable Ralph Gonsalves, Prime Minister of St Vincent and the Grenadines, immediate past Chair, the Honourable Kamla Persad-Bissessar, Prime Minister of Trinidad and Tobago and CARICOM Secretary-General, Ambassador Irwin LaRocque.
Major items for discussion at the two day meeting include Human Resource Development in the Community, Information and Communications Technology for Development, Economic Growth and Sustainable Development, and Climate Change. The Heads of Government will receive preliminary reports from a Commission on the Economy and a Transportation Commission, as well as the use of marijuana for medical purposes and on the issue of reparations and native genocide.
The Council for Finance and Planning (COFAP) met on Saturday and had a first look at the report of the Commission on the Economy and forwarded its views to the Heads of Government. On Sunday the Prime Ministerial sub-committee on the CARICOM Single Market and Economy (CSME) will discuss the latest developments on its implementation.
President of the Regional Council of Martinique, His Excellency Serge Letchimy will meet with the Leaders, while the Foreign Minister of Turkey His Excellency Ahmet Davutoglu will hold discussions with the Community's Foreign Ministers.