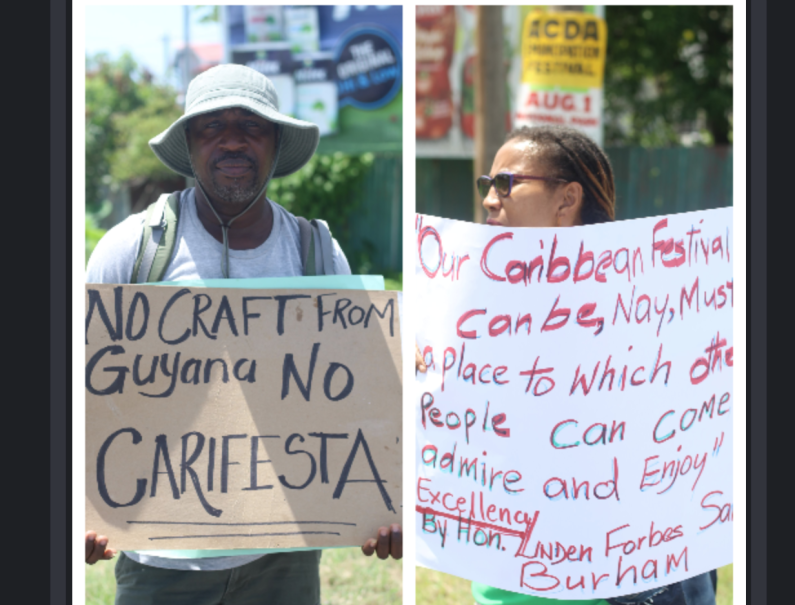 A group of Guyanese craft producers staged a protest in front of the CARICOM Secretariat this morning to raise their concern and dissatisfaction with the way they are being treated by the organisers of CARIFESTA.
The group of craft producers will be part of Guyana's contingent to the regional festival which is being hosted in Trinidad and Tobago in August.
At issue is the number of booths being provided in the Carifesta village for local craftsmen.
They complained that at the last CARIFESTA event which was hosted in Barbados, 25 booths were made available to Guyana for the showcase of its arts and craft. However, they claim that the organisers for the festival in Trinidad are only offering them five booths to showcase all of their work and that is not enough.
Holding placards, the artists said CARICOM and the Carifesta need to remember that the festival started in Guyana and whenever Guyana hosted the event, it ensured visiting contingents were treated well and were able to showcase their work and talent on a large scale.
One of the protesters, Oslyn Beresford, said it is disrespectful for a large contingent to be limited in the amount of work it can showcase at the regional event.
The Department of Culture in Guyana has been seeking to address the issue and is scheduled to dispatch official letters of concern to the Carifesta organisers in Trinidad.