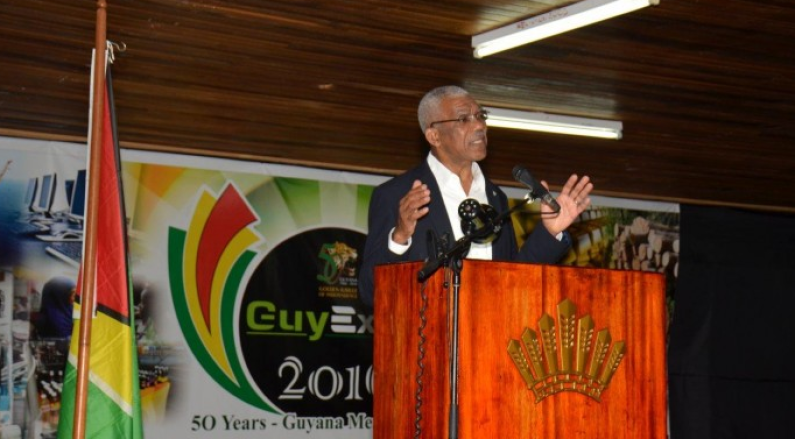 Guyana's leading trade fair and exhibition will take place from the 12th to the 15th May to coincide with 50th Independence celebrations.
The event is being organised by the Ministry of Business and intends to showcase Guyana's development over the years in the manufacturing and services sector.
At the Friday evening launching of the event, President David Granger called for more emphasis on locally produced products at the event.  He said the Guyana Trade Fair and Exposition (GuyExpo) needs to place more emphasis on the local manufacturing sector in an effort to revitalise the economy.
The President said GuyExpo must showcase Guyanese businesses and provide the platform for networking that will lead to expansions and the further investments needed to rev up the economy.
"We have to find out the character of GuyExpo. Is it to develop agro processing and encourage micro businesses or is it to display anything and everything that you can bring into the country? We need to deal with that problem if we are to move GuyExpo forward from year to year and encourage business, encourage production," he said.
Mr. Granger also challenged the manufacturing sector expand their companies by moving away from just raw exports. "For years we have been depending on raw sugar, raw rice, raw bauxite, raw gold and diamonds, raw timber and raw fish. We are still a raw economy and we have not really evolved from those six sisters. I do believe that GuyExpo has to play a part in transforming and changing our economy. We have to think seriously about using this exhibition as the forum for value added; for moving [from] raw logs to high quality furniture, for moving [from] bauxite into alumina, for moving [from] gold into jewellery and for moving [from] fish into products that can be taken to the hinterland to feed school children", he said.
Minister of Business, Dominic Gaskin said GuyExpo is well aligned with the objectives of the Ministry of Business as well as the economic development objectives of the government. He also revealed that this year, one area of focus will be the development of micro and small enterprises.
"GuyExpo provides opportunities for growth even for small businesses. It gives them the opportunities needed to grow and develop…Efforts will be made to encourage them to bring to GuyExpo high standards of products and services and the Guyana National Bureau of Standards will be playing a critical role in this [regard]," he said.
He noted also that the Ministry is also placing special emphasis on business development and export promotion this year.
An estimated 500 exhibitors are expected to showcase their enterprises at this year's event.