Health Minister Dr. Frank Anthony said the COVID-19 situation in Guyana is worrying with the trend of positive cases in the past few days.
Guyana has recorded close to 1000 new cases of COVID-19 in the past week alone and more persons are being hospitalised.
During his Covid-19 update today, Dr. Anthony said over the past week the country has recorded a steady increase in new cases, with the number of active cases rising significantly.
"To date, we have 1,695 cases that are active. So, this is showing us that we have an upswing of cases, and we must take extra precautions now. I think people have become a little complacent, not adhering strictly to the measures, not going out to get vaccinated, protecting themselves, so if there is any indicator that we need to become more vigilant again, I think this is it." Dr. Anthony said
Apart from seeing an increase in cases, the Health Minister said there has also been an increase in the number of persons hospitalised with the virus, explaining that two days ago there were 70 persons in hospital but that number is now close to 100.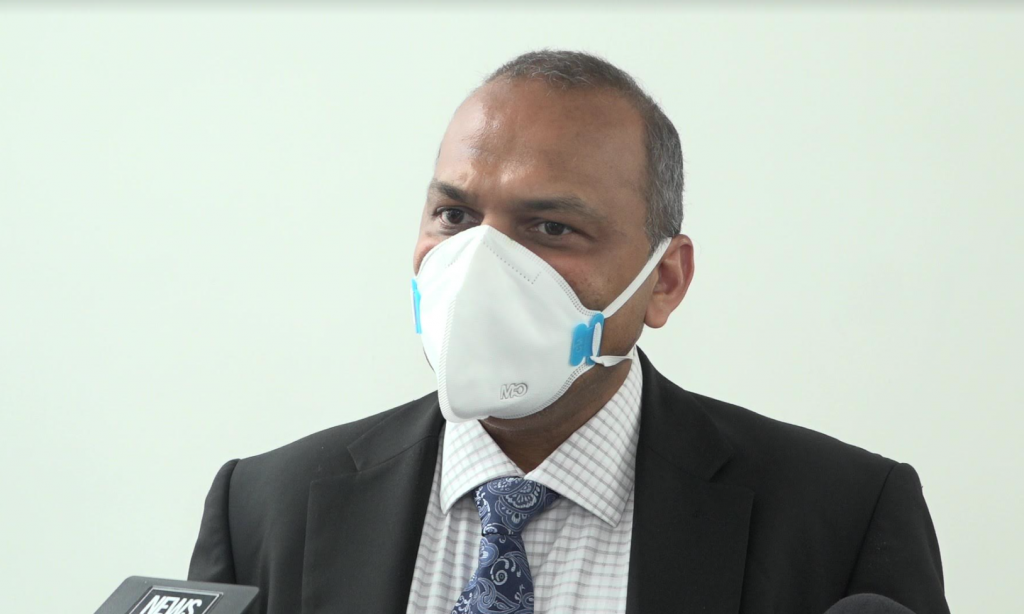 "Now we have 99 persons in hospitals, we have 73 persons who are at the ocean view facility, we have 7 persons at West Demerara, 4 at the Mahaicony hospital, 2 at the Rose Hall, 3, in Skeldon, 4 in the Bartica Regional Hospital and 4 in the Upper Demerara Hospital. Of the 73 patients that we have at the Ocean View, we now have 23 persons in the ICU," the Minister said.
Dr. Anthony is once again imploring persons to follow all measures in place as well as to take the vaccine.
"Some people take the measures but they do so in a very sporadic manner, that doesn't work, if you are going to do them you have to do them consistently so whether you are in a room or in the public you have to wear your mask consistently, some people have on the mask and they are wearing it under their nose, if you are not protecting your nose then you can get infected," the Minister reminded.
Though the Government has not confirmed the presence of the new faster spreading Delta Variant in Guyana, the Government of Trinidad and Tobago has announced that one of its recent Delta variant cases was confirmed in a passenger who arrived there from Guyana.