Minister of Health and Candidate for the People's Progressive Party Civic, Dr. Bheri Ramsarran told reporters at Whim, Berbice on Monday that he should have "slapped" and have his supporters "strip" women's rights activist Sherlina Nageer after she interrupted a road side press interview he was giving and questioned him about maternal deaths in the country.
The entire confrontation was captured on audio tape.
During the recording, Ramsarran could be heard calling Nageer an idiot after she interrupted his media interview. The two got into an exchange of words and the Health Minister called for police back up after he berated the activist.
As Nageer was being led away by the police, Ramsarran could be heard telling the reporters that "I would slap her ass you know just for the fun and I can have some of my women strip her".
Nageer has been very outspoken about domestic violence and abuses against women for years. She has also been leading several protests against the government of Guyana over "poor health care" for women and attacks on freedom of speech.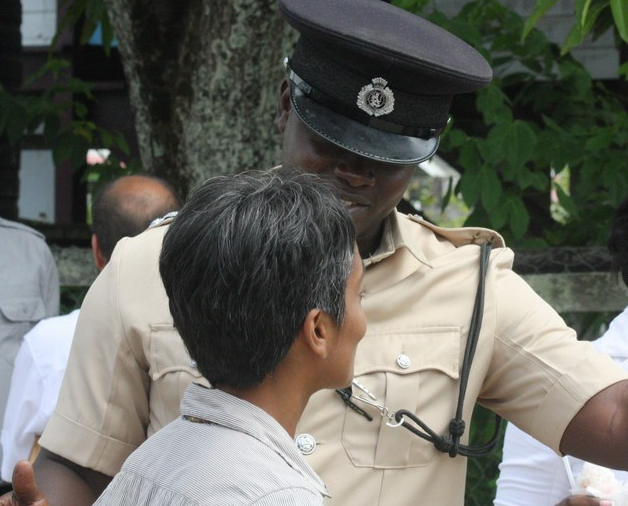 Before she was removed from confronting the Health Minister, the activist chastised him for his record in office while she pointed to the many cases of maternal deaths. Ramsarran told the woman that there were less maternal deaths under his government than there was under the last administration 23 years ago.
As he tried to shut down Nageer, she continued to challenge him on his record and when she reminded him that taxpayers like her pay his salary, Ramsarran could be heard telling the woman to "eff off" as he called her a "piece of sh%t" and said she should not be interrupting his private interview on the roadside to two Berbice based reporters.
Ironically, the Health Minister was outside the Whim Magistrates court to lend support to former President Bharrat Jagdeo who is facing private criminal charges for an alleged racially divisive speech that he made at Babu John back in March.  Jagdeo had been accused by his ex-partner and former first lady Varshnie Singh of domestic abuse. He has always denied those allegations.
The PPP has a woman as its Prime Ministerial Candidate. Ms. Elisabeth Harper has been calling for more respect for women and promising that a new PPP government would do more to fight domestic violence and clamp down on abuses against women.
LIKE our Facebook page: www.facebook.com/newssourceguyana
Follow us on Twitter @newssourcegy