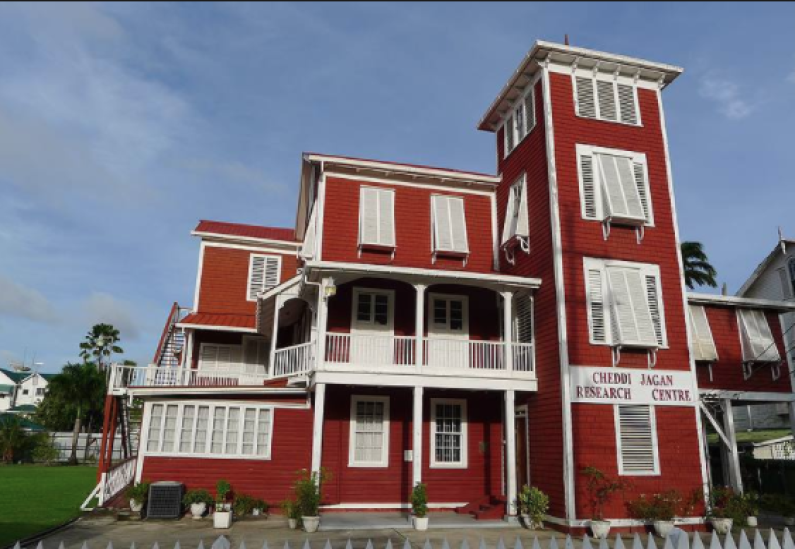 The occupation of  Red House by the privately owned, Cheddi Jagan Research Centre Inc. (CJRCI) could result in criminal charges being brought against the group for trespassing, since the lease granted did not allow for occupation of the building on the lot 65-67 High Street plot of land.
This is according to Attorney General and Minister of Legal Affairs, Senior Counsel, Basil Williams. He spoke on the issue on Saturday during a press conference held at the National Communications Network (NCN).
Custody of the building, known as Red House, located on the land which the CJRCI purported to have leased from the government, was handed over to the National Trust and became a heritage site and National Monument in 2000. That same year, CJRCI made its first attempt to have then President Bharrat Jagdeo approve lease of the land, but this was never granted. Attempts were again made in 2006, 2010 and 2011 under then President Donald Ramotar, but these too, failed to get the approval of the Head-of-State as is stipulated by law.
Section 10 of the Land Department Act Chapter 59:01 states that: "Government lands shall only be rented or sold with the sanction of the President and on the terms and conditions determined by him."
However, the leasee of the land was only able to get the signature of then Commissioner of lands Doorga Persaud without the approval and or sanction of the President. As such, the AG contended that the lease is null and void and that offense is punishable by up to 10 years in jail.
Further, he pointed out that the lease, did not even include possession of the actual building on the property – Red House – but that it was nevertheless occupied by the CJRCI.
"The building itself was not included in the lease. If you're going to include building with lands, you have to say lot 65, 66, 67, with the building and erection thereon. It wasn't included because they knew they couldn't lease or sell a National Heritage Monument," Williams explained. He added that the building is property of the National Trust and as such, it could not be sold, leased, or otherwise disposed of without the sanction of the minister/President. And this too, was never done prior to CJRCI's occupation of the building.
In light of these activities, the Minister contended that criminal charges could be brought against the CJRCI, since their occupation of the building without a lease constitutes trespassing.
"Under the land dept act, the commissioner could institute charges in relation to offenses in connection with state or government lands. Provision is made in the law for criminal charges to be instituted for trespassing. It is a libel offense" he said.