While Opposition Leader Bharrat Jagdeo has agreed to meet President David Granger to discuss the latest list of nominees submitted to him for the Chairmanship of the Guyana Elections Commission, he is now questioning whether the President is really "fit and proper" to choose a GECOM head.
"What does he want to meet with me to say again?" Jagdeo asked in response to the President's announcement that he intends to meet with him to discuss the matter.
Mr. Jagdeo told reporters on Thursday that some of the nominees that he has submitted are more "technically qualified than the President and some of his Ministers".
"Maybe he is not fit and proper to make the selection", he stated as he questioned the President's insistence that whoever is chosen as the Chairman of GECOM must be "fit and proper" in keeping with the Constitution.
Jagdeo appeared disappointed that President Granger has not yet selected a name from the third list submitted to him.
Despite that disappointment, he said he has not closed the door on the President's proposal to meet with him.
According to Jagdeo, he's hoping that with the President's departure from a written rejection of the two previous lists, he is hoping that the meeting will be for him to announce that he has made a selection from the third list.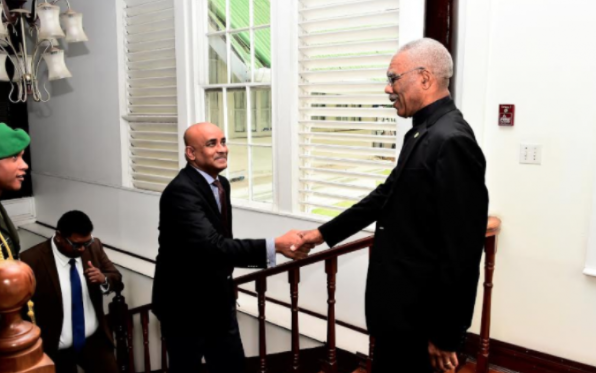 "In the past, he would write and say he does not accept anyone, let's just say I am hopeful that this meeting is to say someone one is chosen," Jagdeo said.
The Opposition Leader noted that it is difficult to understand why the President cannot find one individual from three lists of a total of 18 persons, who he believes are all qualified professionals, with good standing in society.
"How long will the charade go on in the face of the ruling now from the Court?" he asked, while adding "somebody needs to say to him that he needs to address the issue seriously."
President Granger on Wednesday stated that he is still studying the last list of nominees. He said it took Mr. Jagdeo eight weeks to come up with the list of six nominees and noted that there was no rush for him to do that.
The President said he is also studying the published opinion of the Chief Justice Roxanne George in the matter. But Jagdeo believes the President's comment amounts to a "clever diversionary tactic."
When the two met in June following the rejection of the second list, they issued a joint statement, agreeing that a high-level team would be assembled representing the President and the Leader of the Opposition, which will begin to work immediately on exploring modalities to bring a resolution to this matter in the event that the third list is rejected.
Its unclear whether that high-level team was ever put in place by either side. (by Kurt Campbell)