As the opposition People's Progressive Party observed the 100th birth anniversary of its late founding Leader, Dr. Cheddi Jagan, the current leadership of the party came in for strong criticism from Dr. Jagan's son and former PPP Member of Parliament, Dr. Cheddi "Joey" Jagan.
In a televised interview with the HGP Nightly News this past week, Mr. Jagan zeroed in on former President and current Opposition Leader Bharrat Jagdeo, who is also the current General Secretary of the PPP.
"He has betrayed what my Father believed in and I don't care what nobody says", the younger Jagan declared as he explained that Dr. Cheddi Jagan never tolerated corruption or its appearance or perceiption in his government. He added "that is what stalks the PPP today and they cannot shake it with Mr. Jagdeo as their Leader", Dr. Jagan said.
Dr. Cheddi Jagan came to power as President in 1992 but died before completing his first term. Although it has been more than two decades since his death, there continues to be debate about the party he founded and whether it has been following his ideals. The PPP remained in power until 2015 when it was beaten at the polls by a coalition of other political parties, that received the support of Dr. Joey Jagan.
Over the years, the only son of the party's leader has never hidden his disdain for the direction he saw the party going and the attitude and behavior and ideals of its current leaders.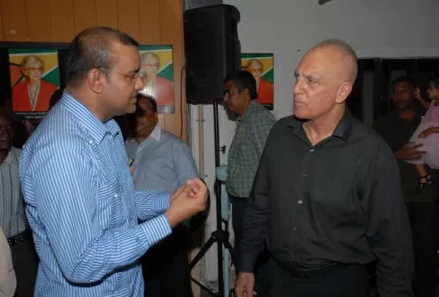 "After Caesar died, Brutus brought catastrophe on Rome and I think that is what is happening. I think that Mr. Jagdeo is the wrong Leader, he is the wrong General Secretary, he is the wrong Presidential Candidate…I think Mr. Jagdeo is getting carried away with emotions and he needs to sit back and analyze carefully and support the government on certain issues like my father did. He needs to be a good leader and you don't be a good leader by criticizing everything", Jagan declared.
He said once the current government focuses on doing things that can have an impact on the ordinary man, he does not see the PPP regaining power and Jagdeo becoming President again anytime soon. In fact, Jagan predicted that the PPP will lose the next elections since he is convinced that better will be coming from the current government.
Mr. Jagan followed up his interview with the newscast with a letter to the editor of the daily newspapers.
In that letter he wrote "Editor, President Cheddi always talked about "living a Cadillac lifestyle in a donkey-cart economy" when he criticized the political players who talked through the sides of their mouths, and isn't it ironic that the very people who claim Jagan's legacy, live the Cadillac lifestyle over at Pradoville ‒ No sir!  I certainly cannot support or endorse leaders who distort the essence of Jagan's life and works."