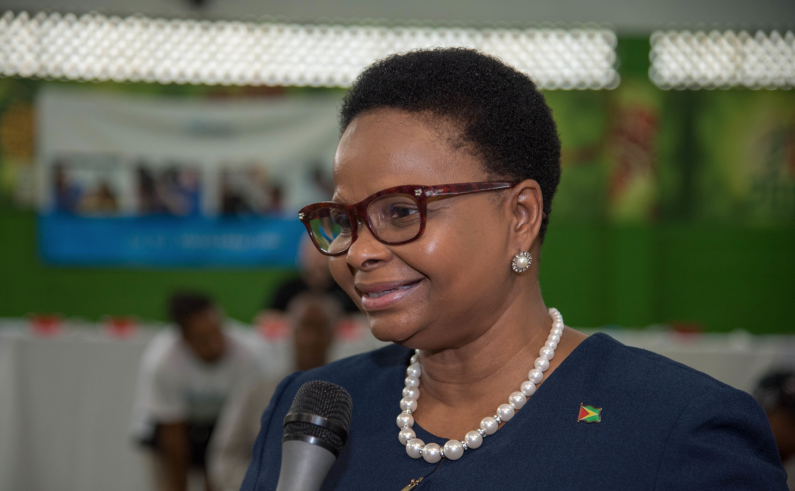 Chairman of the People's National Congress, Volda Lawrence, today made a call for unity to prevail in the PNC, as the party gears up for its 21st biennial delegates congress later this year.
She made the call while delivering an address at the party's 64th-anniversary celebration this morning.  
Ms. Lawrence said the actions of party members must set the foundation towards unification and not confrontation, declaring that "political confrontations would lead us nowhere."
The PNC Chairman said the 64-year-old party must position itself in a way that will enable everyone to benefit.
"We must expand the reach of the PNCR and allow our principles and commitment to the people of Guyana to dominate the political realm and improve the lives of all Guyanese. From this historical starting point, our personal commitment, as well as our responsibility to all of Guyana, must include working to have a more organised and mobilised Party, united in its effort to advocate for its membership and all Guyanese," Lawrence said.
Focusing on the upcoming party congress which will take place in a virtual setting, Lawrence said the party's efforts to host the Congress at this time must be recognized as a timely reminder of the dynamic nature of the PNCR.
"Our Congress demonstrates our strength, our vivacity, and our dynamism. It demonstrates our unity and our vision. It shows the continuity of our work.  Comrades, our Congress also holds a very important significance for our Party. Let me, therefore, assure you, comrades, that no effort will be spared to ensure your safety, as all factors have been considered and all necessary precautions will be taken," the Party Chairwoman said.
Lawrence is expected to be one of the persons seeking the position of party leader in the elections. She said she cannot confirm her participation in the elections since that depends on being nominated.