In this week's column, I have decided to shed some light on the issue of revocation of United States (US) nonimmigrant visas.
Under US immigration law, revocation of nonimmigrant visas (which includes B1/B2) is governed by 22 C.F.R. § 41.122. Section (a) states "a consular officer, the Secretary (of State), or a department official to whom the Secretary has delegated this authority is authorised to revoke a nonimmigrant visa at any time, in their discretion".
However, a consular officer may only revoke a nonimmigrant visa on the basis that the visa holder is not eligible for the particular visa classification or if he/she is found ineligible for a visa under one of the inadmissibility provisions of section 212(a) of the Immigration and Nationality Act (INA), 8 U.S.C. § 1182(a). Two general grounds are:
Health, criminal, security related and other grounds; and
The visa holder no longer qualifies for the particular visa.
The latter could include numerous reasons: some common examples would include:
If you materially misrepresented facts on your visa application or interview;
If you have had several long term stays in the US; and
If you have exceeded your allotted time in the US.
Correlatively, a nonimmigrant visa could be considered automatically revoked if the holder overstays an authorised period of stay in the US pursuant to 8 U.S.C.A. § 1202(g).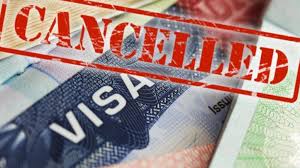 Further, 9 FAM 403.11-3(B) (U) suggests "a consular officer does not have the authority to revoke a visa based on a suspected ineligibility, or based on derogatory information that is insufficient to support an ineligibility finding, other than a revocation based on driving under the influence (DUI). A consular revocation must be based on an actual finding that the alien is ineligible for the visa".
Ordinarily, a Notice of Revocation is issued to the holder pursuant to 22 C.F.R. § 41.122(c) which states, "unless otherwise instructed by the Department, a consular officer shall, if practicable, notify the alien to whom the visa was issued that the visa was revoked or provisionally revoked…". However, it is important to note, revocation of a visa is not invalidated by lack of notice or by failure to cancel the visa prior to the holder's travel to the US, nor does it violate the concept of due process.Knoetze v. U.S., Dept. of State, 634 F.2d 207 (5th Cir. 1981). Notice is not strictly mandated but rather, "if practicable".
Sometimes the consular officer may give the nonimmigrant visa holder an opportunity to show why the visa should not be revoked. It is suggested under 9 FAM 403.11-4(A) (U) that, "althoughthe decision to revoke a visa is a discretionary one, you should not use this authority arbitrarily. When practicable, you must:
Notify the alien of the intention to revoke the visa;
Allow the alien the opportunity to show why the visa should not be revoked; and
Request the alien to present the travel document in which the visa was issued."
If you are granted this opportunity, it may be the only time for you to aggressively prove your case since, visa revocation can result in the holder and their immediate family members being barred from entering the US for several years, and in some cases permanently barred.
The doctrine of "consular nonreviewability" provides that, courts do not have subject-matter jurisdiction to review decisions made by consular officers regarding the grant or denial of nonimmigrant visas, henceforth this extends to revocation of nonimmigrant visas. US courts have generally agreed that by statute, there is no means of judicial review for a visa that has been revoked, except in the context of a removal (deportation) proceeding if the revocation provides the sole ground for removal. Li Hing of Hong Kong, Inc. v. Levin, 800 F.2d 970 (9th Cir. 1986).
Bottomline is, if your nonimmigrant visa is revoked, the matter is settled. You cannot seek relief from the courts. And if you were thinking, I will just sue the consulate, no, neither can that happen.
Saavedra Bruno v. Albright, 20 F. Supp. 2d 51 (D.D.C. 1998)
Disclaimer: These views does not, and is not intended to constitute legal advice.
About the Author:
Dwayne Braithwaite is a Guyanese born practicing US Immigration Attorney for more than 6 years in the State of Georgia. He represents clients from all States since Immigration Law is Federal Law.
He also represents immigrants and intended immigrants from Guyana, the wider Caribbean, Brazil, Africa, Asia, and Europe.
Mr. Braithwaite has also completed his Legal Education Certificate (LEC) through the Transitional Law Programme at the Hugh Wooding Law School (HWLS) and is opening an office in Georgetown, Guyana.