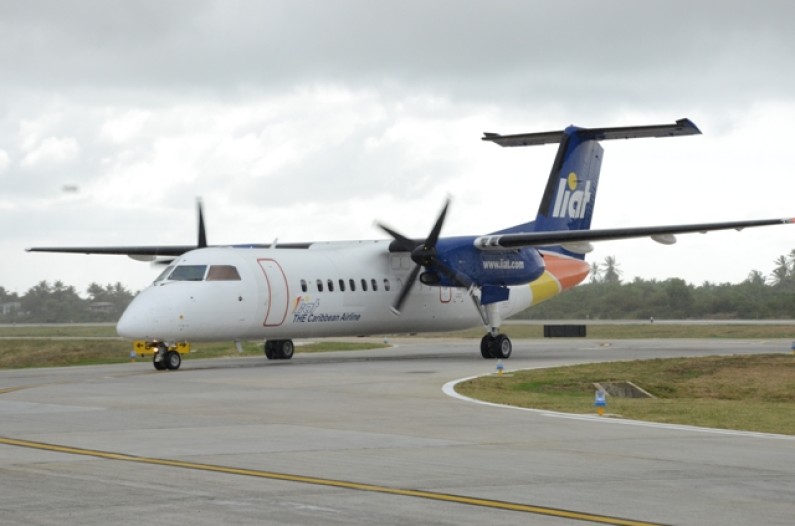 Several LIAT flights around the Caribbean region have been cancelled following a move by pilots of the airline to begin strike action.
The strike action comes as negotiations are ongoing for higher wages, which include the operation of the ATR aircraft.
The pilots are refusing to fly the ATR 72 aircraft until an agreement is reached. The airline uses at least five of the aircraft as part of its fleet.
The airline has already cancelled its afternoon flights between Guyana and Barbados and it is likely that just one of the flights will get the green light on Wednesday. LIAT usually operates two daily flights between Guyana's Eugene F. Correia Airport at Ogle and Barbados' Grantley Adams Airport.
Affected passengers are being encouraged to check with their travel agents or their local LIAT office for more information and rebooking.
In a statement, the carrier said "Passengers who have been affected will be allowed to rebook with the next two weeks with all change fees waived. We strongly advise our passengers to contact LIAT's Call Centre for rebooking or advice on travel. Reservations 1-888-844-LIAT (5428) Toll Free from destinations within the Caribbean Region Call Antigua 1-268-480-5601/2 from Other Countries 1-246 434 5428 from Barbados".
The airline's Chief Executive Officer,  Julie Reifer-Jones, in a statement offered an apology for "these disruptions to our passengers and their plans and wishes to reiterate its commitment to work with LIALPA to resolve any issues."
LATEST UPDATE from LIAT
Please note that the following flights have been cancelled for today:
LI 560 from St. Vincent to Barbados
LI 300 from Barbados to Tortola LI 301 from Tortola to Barbados
LI 512 from Antigua and St. Kitts
LI 393 from Barbados to Guyana
LI 392 from Guyana to Barbados
Passengers are also advised to expect delays on the services which operate today.