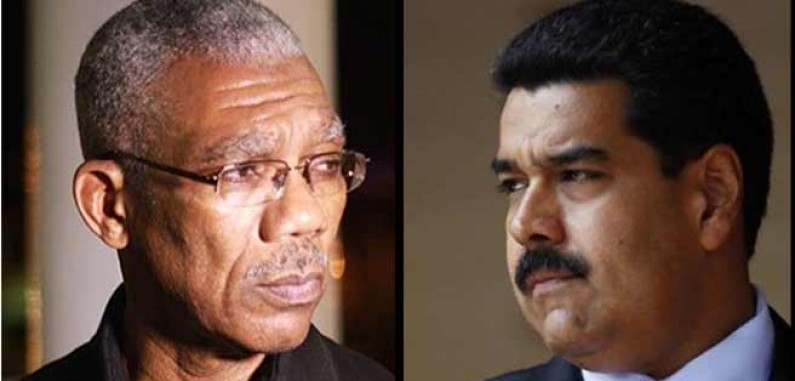 Venezuelan President, Nicolas Maduro hopes to meet with President David Granger and hold face to face discussions when the two attend the United Nations General Assembly in New York in the coming days.
Both Presidents are expected to address the United Nations General Assembly next Tuesday. President Granger will make his address on Tuesday morning while Maduro is slated to speak on Tuesday afternoon.
During an appearance on Tuesday on his television programme, President Maduro said "I hope that at this meeting in New York that we have come out the steps to regularize relations between the Cooperative Republic of Guyana and the Bolivarian Republic of Venezuela."
Just last week, Maduro instructed his Foreign Affairs Minister to put a hold on the steps that were being taken to accredit the new Guyanese Ambassador to Venezuela. He explained then that the move was in response to statements made by Guyana's Foreign Affairs Minister, Carl Greenidge during a recent visit to Florida. Greenidge has defended his statements about Guyana standing firm to protect its territorial integrity.
On the Tuesday tv show in Caracas, Mr. Maduro said Venezuela loves Guyana and its people but he is not sure the same could be said of Guyanese loving Venezuela and its people.
Maduro's statements came on the same day that President Granger confirmed that the government has received reports of the increased movement of Venezuelan soldiers near the border regions with Guyana.
President Granger has since informed Guyana's international partners and the international community about the Venezuelan "aggression".
While Maduro said he is prepared to meet and hold discussions with President Granger, he noted that Venezuela still maintains its claim to Guyana's Essequibo region.
The claim was settled decades ago and only recently resurfaced following the discovery of oil, offshore Guyana within Guyana's territorial waters.