by Gordon Moseley at the United Nations in New York
President David Granger and Venezuelan President Nicolas Maduro sat down with UN Secretary General Ban-Ki-Moon on Sunday evening for UN facilitated talks as Guyana continues to complain about Venezuela's ongoing threats and claim to Guyana's territory.
Both Leaders appeared serious as they headed into the closed-door discussions along with their Foreign Affairs Ministers. They smiled briefly for the cameras as the UN Secretary General brought their hands together. The two leaders did not offer handshakes to each other.
The talks marked the first time that the two Presidents were meeting since Mr. Granger was elected to government and since Venezuela began its threats against Guyana. The meeting also came at a time when Guyana was forced to complain to the international community about a build up of Venezuelan armed forces near the Guyana border.
Guyana has been mobilizing its military in response.
Earlier in the day, President Granger said Guyana still intends to seek a judicial settlement to the ongoing controversy. He said  Guyana and Venezuela have been talking for over 50 years as Venezuela refuses to acknowledge the 1899 tribunal award which settled the border issue.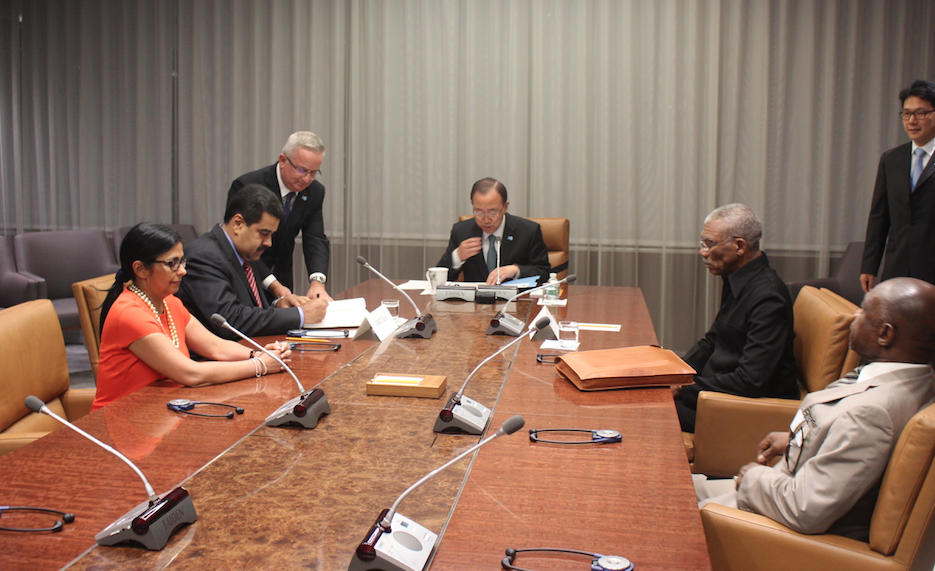 President Granger said it is time for Venezuelan to send its Ambassador back to Guyana and accept the credentials of the new Guyana Ambassador to Venezuela. Venezuela recalled its Ambassador a few months ago as the Guyana government started to rally the international community in its corner following Venezuela's illegal claim to Guyana's territory and maritime zone where an American oil company is carrying out exploration.
Venezuela has been maintaining its claim even as the Commonwealth and CARICOM as well as the American and British governments have all made clear that they are fully behind Guyana.
The Government of Guyana maintains that the claim is illegal and it is time Venezuela stopping attempts of development in the country.
(Photos by Gordon Moseley/News Source)
Coverage of UN General Assembly compliments of Fly Jamaica Airways and Star Party Rental.