The lifeless bodies of a young man and a young woman were discovered just after 4:00pm this afternoon at the seaside of the Kingston seawall in Georgetown.
The two persons are still to be identified but are both believed to be in their 20's.
The discovery was made by afternoon joggers. Police investigators at the scene told News Source that from all indications it appeared as though the two persons took their own lives.
A number of bottles with different liquids, suspected to be poisons,  were found near the two bodies.
There were no marks of violence on either of the bodies and they were both fully clothed. The young man who appears to be of Indo-Guyanese descent, was clad in a black jeans and a white vest. He had black socks and shoes on his feet.
The young woman, whose body laid just next to the young man's body, was clad in a neon green jeans and a black t-shirt. She was wearing nothing on her feet.  She also appeared to be of Indo-Guyanese descent.
A pair of shoes believed to have belonged to the woman was discovered nearby.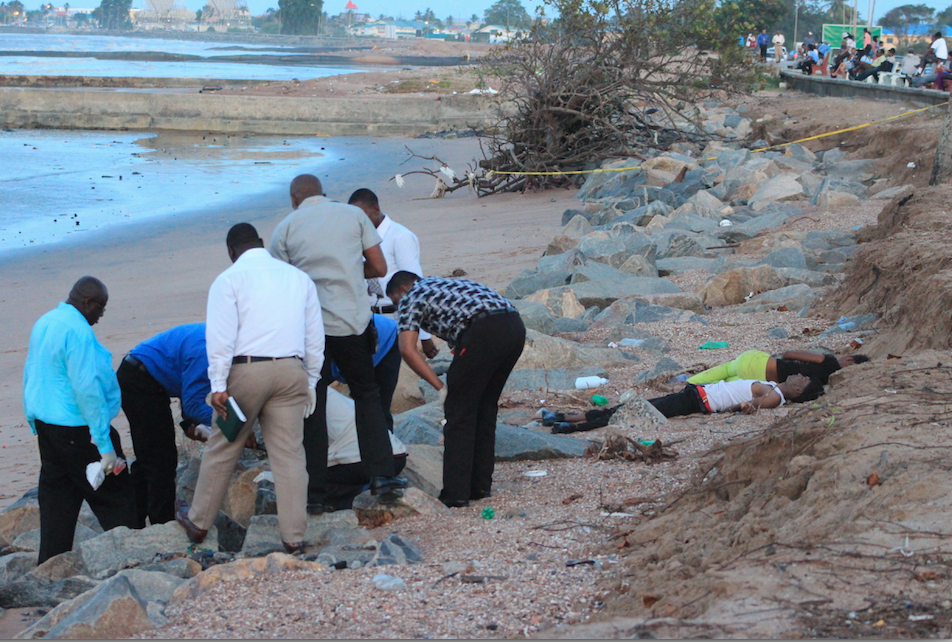 There were no forms of identification found at the scene.
Investigators believe that the couple made their way to the seawall area some time this afternoon. Both bodies showed no signs of rigor mortis, although the young woman's body appeared more flexible as the crime scene investigators checked for any marks of violence.
A large crowd gathered nearby but was kept away from the scene until the bodies were removed. They are currently at the Lyken funeral home awaiting identification.
(Story and photos by Gordon Moseley)