An East Bank Demerara  man who has been identified as Winston Da Silva was gunned down early Monday morning as armed men carried out a daring robbery in the heart of the city just as the busy business day was getting started. Da Silva was in the company of his employer Cecil Gajadhar when they were attacked. Gajadhar is nursing gunshot wounds.
The incident took place just after 8 o' clock in the Water Street area as the two men who were in the Honda CRV vehicle came under attack from two armed gunmen who reportedly escaped with a bag of money in a waiting grey Toyota Allion motor car with hire car number plates.
It is reported that the Dasilva and Gajadhar were about to transact some business at a commercial bank in the area when they were ambushed by the gunmen who opened gunfire on the vehicle.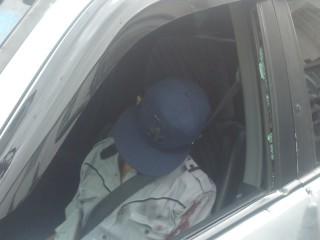 The businessman who was driving sustained a number of gunshots. His employee Winston DaSilva was killed on the spot and the armed men reportedly grabbed a bag from the vehicle containing $8 Million, before they made their escape.
The businessman Cecil Gajadhar who is a remigrant operates a gas station on the East Coast of Demerara tried to drive away from the gunfire but he was unable to make it very far. He came to a stop at an alleyway between the GTM Insurance Company and Republic Bank in the Hincks Street area.
An eyewitness said he noticed the grey Toyota Allion parked with someone in the driver's seat. He said the trunk was opened and he thought that the driver may not have known that so he closed the trunk as he walked pass the car.
According to the man who does not want his identity known, "the driver pop the trunk back opened as I walked by and it was then that I heard the loud gunshots going pow pow pow and I ran for cover." The man said he believed the gun men also fired shots in his direction as they made their escape in the same parked motor car.
As security officers in the area rushed to the scene, the gunmen made their escape north on Water Street heading in the direction of the construction site for the new Marriott hotel.
Police sources have said they are on the case and are following a number of leads. They are looking for three men including the driver of the getaway car.
Investigations are ongoing.