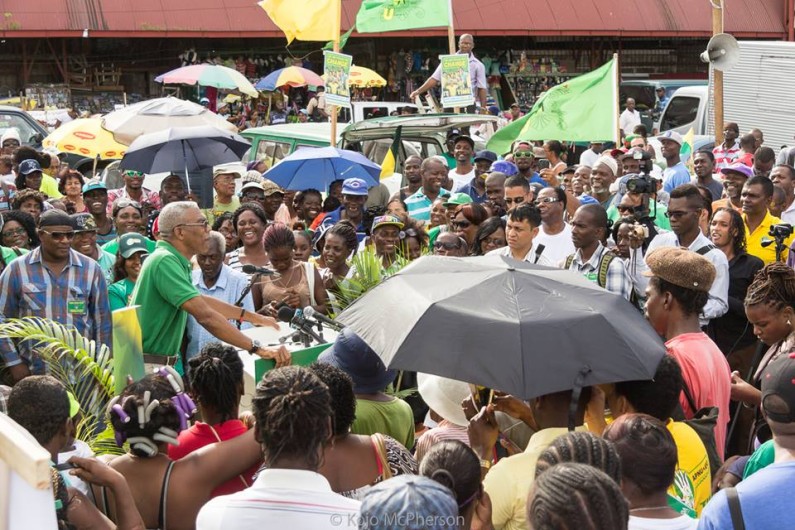 One week after sections of its draft manifesto was leaked, the APNU+AFC coalition on Thursday officially launched the complete document at the Stabroek Market Square, declaring the manifesto a people's document.
The coalition used the backdrop of the Stabroek Market during afternoon rush hour as its way of showing that the manifesto is connected to the ordinary man.
The coalition said in recognition of the need for a government which represents all Guyanese and not just a handful of the privileged, it chose to unveil the manifesto at the Stabroek Square, while criticizing the ruling People's Progressive Party Civic Launch which place at the tax payer funded Marriott Hotel.
The document includes a 100 days plan as well as a longer five-year plan which the coalition boasts has something for everyone.
APNU+AFC Presidential Candidate David Granger said the manifesto was designed to wage a war against poverty for which a plan is laid out therein.
"There are too many poor people and too much poverty and this has come about because the PPP is thieving too much… they are keeping us in poverty. We have too much resources but the PPP wants all," Granger said as he declared that a war against cronyism will also be waged by establishing proper public procurement.
Granger noted that the document also has a plan to deal with disunity which has prevented development over the past years. The document will also wage a war against crime and dictatorship, through meaningful constitutional reform, Granger declared.
He said the manifesto will no doubt lead Guyana into the future and make the country a better place for all.
Meanwhiel, Prime Ministerial Candidate Moses Nagamootoo spoke of the restoration of open and accountable governance, should the coalition secure a victory at the upcoming elections.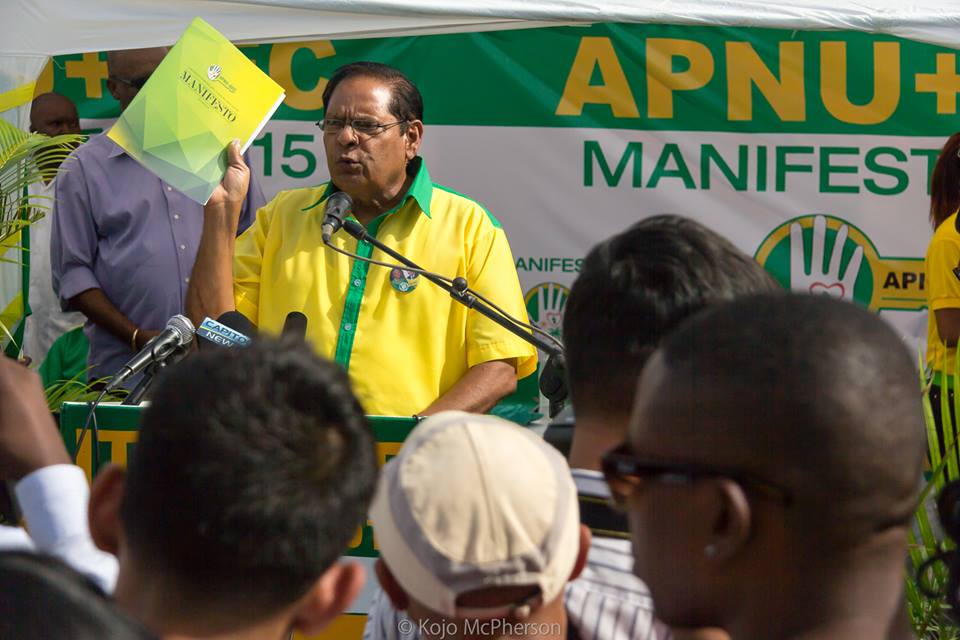 "This is what underlines this document… it includes policies and programs that we would adopt to bring about an open society," Nagamootoo said in his brief address to the crowd of supporters.
 The PM Candidate said the bottom line is ending discrimination and marginalization and advance efforts to bring all citizens together as one nation.
 "We have not copied anyone here. We are original, we have ideas that can take this country forward and resolve the problems of corruption, problems of crime and low wages and take care of many jobless
He used the occasion to appeal to members of the disciplined services who will be voting on Saturday May 2 and pleaded with them to support the APNU+AFC coalition.
Copies of the manifesto were handed out to a number of groups and organisations.
The APNU+AFC promises that several government contracts will be reviewed by a special team, once it is elected into office.
Investigations will be led into the use of the PetroCaribe, the Lotto and other funds used as "slush funds."
The contracts of the new Skeldon Sugar Factory, the Enmore Packaging Plant, the Airport Expansion Project, Marriott Hotel and Amaila Falls Hydro Power Project will also be investigated under an APNU+AFC government, according to the manifesto. (Kurt Campbell)
-Kojo Mcpherson photography