As the Inquiry continues into the alleged plot to assassinate the President, the Commission continued to hear claims of police misconduct, poor investigation, and affiliation between the police and the Khan brothers.
A prolonged, aggressive and argumentative exchange between Andriff Gillard and Counsel at the Assassination Plot Commission of Inquiry on Friday led him down the road of denying that he had a mental illness and an obsession with drawing attention to himself.
Gillard is the man who has leveled accusations against businessman Nizam Khan, claiming that he offered him money back in 2015 to assassinate President David Granger.
Nizam Khan sat in the full view of Gillard as he recounted the alleged offer made to him and the related incidents that followed.
He gave his testimony in chief on the first day of public hearings, but was recalled to be crossed examined by Attorneys Christopher Ram, who is representing Nizam Khan and his brother Imran Khan, Glenn Hanoman, who is representing Police Commissioner Seelall Persaud and Senior Counsel Ian Chang who is representing the interest of the Guyana Police Force.
It was Hanoman who first asked Gillard whether he was ever treated for a psychiatric condition to which Gillard responded in the negative.
Hanoman then suggested to Gillard that he has always had a strong desire for attention and proceeded to ask Gillard if he would be willing to seek treatment for a mental condition.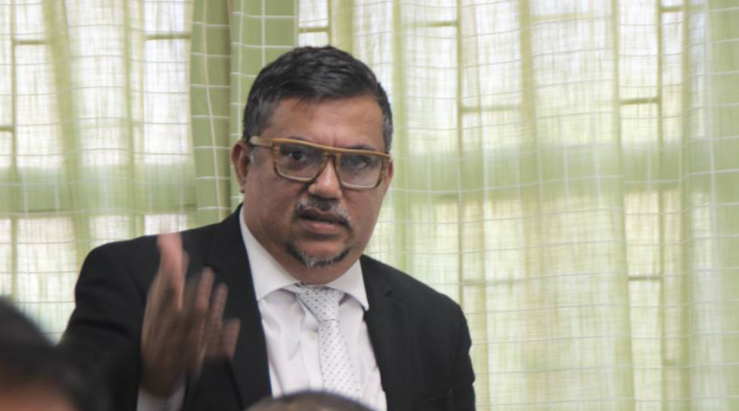 To this Gillard said "I don't think I am mad," to which Hanoman sharply responded "I do think so, I believe something is wrong."
He again asked the witness whether he will be willing to seek professional psychiatric help to which Gillard responded: "Do I look mad to you." At this point Commissioner Slowe interrupted to ask that the line of questioning cease.
Gillard continued to field questions from Hanoman during which he divulged information, claiming that he had refused initially to go to the police because he had fears that the matter would not be investigated professionally.
He said he went to the office of the President to seek help and get protection but had doubts when he was redirected to the police, who he claimed was affiliated with the Khan brothers who he was making the accusations against.
He claimed that the Khan brothers were associated on a friendly level with Commissioner Persaud and also implicated Head of the Office of Professional Responsibility, Heeralall Mackhanlall in the friendly affiliation.
Gillard said he was once sent to Mackhanlall by his one-time friend Nizam Khan in a matter which resulted in four police officers being dismissed from the force.
"Nizam Khan controls the Guyana Police Force, and he also had affiliation to Mackhanlall because I was personally sent to him by Nizam to have four police removed," he said.
Gillard explained that it was because of this affiliation he knew the Khan brothers had with the police, that delayed him in making the report of the offer.
"I wanted to make my report to someone who would act professionally [..] I even told Hicken I would like the matter to be investigated with professionalism."
Gillard first went to OP to make his report after which he was sent to the Ministry of Public Security. From there he was escorted to the Office of then 'A' Division Commander Clifton Hicken who then sent him, at the request of Crime Chief Wendell Blanhum, to the Criminal Investigation Department.
The COI is now examining the role of the CID, the Major Crimes Unit and other senior police ranks played in the investigation.
Gillard said while at CID, he was not treated fairly and also overheard at one-point Imran Khan instructing a police rank to arrest him.
He said he was subsequently forcefully put to sit on a bench and then placed on $20,000 bail. He also told the Commission that the investigating rank who took his statement at CID told him to keep the names minimum when he attempted to speak about the affiliation between senior police ranks, the judiciary, and the Khan brothers.
Gillard's argumentative exchange continued as he responded to questions from Chang and Ram.
He admitted that he had several encounters with the police which included charges for robbery, larceny, threatening language and behavior, wounding and assault.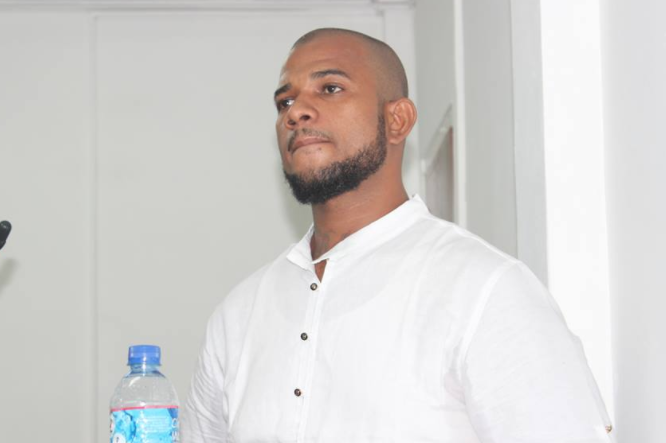 Gillard was also shown a picture he posted on his Facebook page of black rifle under the caption "Nizam Khan #busted."
When called on to explained, he said it was a picture downloaded from the internet to show the type of gun Nizam showed him when he asked him to assassinate the President.
"How would I know that Khan had a gun like this if I didn't see it? I got a picture of the exact gun Khan had shown to me. How would I know he had a gun?"
Gillard claimed that after he refused the offer by Khan he had to deal with months of torment, harassment, and threats which eventually led him to seek help.
"What I want to ask this Inquiry is if this situation is lie as what people saying, why all the covering up?" Gillard asked as he ended his time in the witness box.  (by Kurt Campbell)