The $79 million Kitty Roundabout was officially opened to the public this morning and represents the first of three roundabouts to be built in Region #4 this year.
The symbolic cutting of the ribbon also signaled the completion of another piece of the puzzle in the government's developmental plan for Carifesta Avenue, the Kitty seawall, and the Rupert Craig Highway.
Though safely usable for drivers and pedestrian, there are minor works to be completed which includes landscaping, the installing of traffic lights and the painting of several mediums and curbs.
Delivering brief remarks at the opening of the roundabout, Public Infrastructure Minister David Paterson said the occasion should not only be seen as an opening but reinforced that it was part of a well thought out plan.
Recalling the stages that brought his Ministry to this event today, Patterson reminded of government's move back in 2016 to upgrade Carifesta Avenue to the tune of $147 million.
LED lights were also added at a cost of $35.8 million. The Ministry in 2017 then replaced all pipework, connecting to the pump station to improve drainage in the area and set a firm base firm base for this landmark.
Patterson also made note of the ongoing works to extend the Highway along the East Coast. He said the final stage of the development plan is to have a waterfront development from the Kitty Pump Station to the Pegasus Hotel.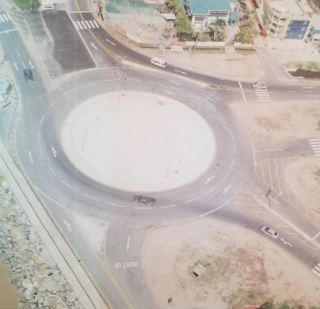 On a daily basis, the area is home to several food outlets and serves as a great recreational spot for citizens int eh mornings and afternoon.
But Patterson said the Ministry has plans to sustainably develop the area. Those upgrades are expected to commence and be completed by 2019.
Meanwhile, two additional roundabouts are to be built at the Timerhi Junction and the Sherriff Street, Mandela junction.
Patterson pleaded with road users to be careful with the use of the roundabout and observe signs so as to ensure that it serves its purpose of efficiency.
He said police ranks will be placed there over the next two months to keep an eye out for violators of the rules of usage.
The Ministry has been engaged in public education efforts and tutorials on how to use the roundabout are available online.