by Kurt Campbell
The Commission of Inquiry into the deadly Camp Street Prison unrest continued to hear of ill-treatment of prisoners within the facility, this time from a crying inmate.
The fourth prisoner to appear before the Commission was 39 – year – old Michael Lewis, who took the stand on Tuesday and recounted his own horror stories within the jail as he broke into tears.
He described his own treatment as being beastly. "Officers treat inmates like beast," Lewis wrote in his statement and repeated on the stand.
He offered an explanation and claimed that "for instance, if you feeling pain and you have a problem and you tell the officer that you sick, all they would say is hold on.When you hold on, that day pass and gone. If you speak to another officer that one will tell you hold on too."
Lewis has been on remand for just over two years. He is awaiting trial on a kidnapping and murder charge. He was charged back in 2014 with the murder of a businessman who was kidnapped and eventually murdered when his family failed to pay a ransom.
A number of other men were also charged in connection with the same case.
The prisoner complained to the Commission that he is displeased with the meals served and claimed that sometimes prisoners are only served beverages for breakfast.
"Porridge and sometimes bare tea and tea bag tea, bare tea is tea without tea bag, water with sugar Sir. Some Wednesday morning we would get bread," he added. Lewis further added that "for lunch, most times we would get cook up.. with just chunks with peas."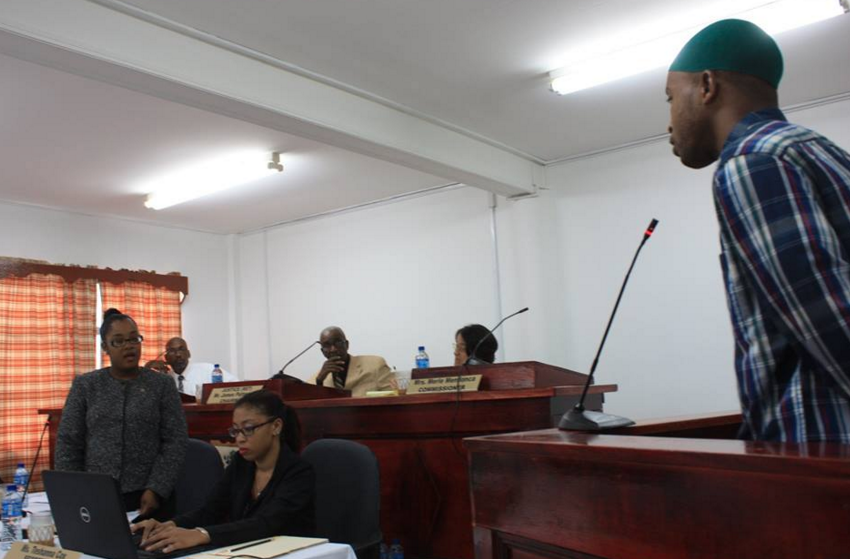 He claimed that when meat is served, it is not visible in the food. "But sir I must tell you that since this Commission of Inquiry start, you does see your meat Sir", he assured.
Asked if he would consider his meals adequate, Lewis responded in the negative. He claimed that most times for dinner, inmates would be served cook up again without any meat.
Referring specifically to the March 3 unrest that claimed the lives of 17 prisoners, the crying Lewis said inmates were calling for help for more than one hour before any assistance was rendered.
"If they had wanted to help the prisoners, there was a hole from Capital B that they could have come in and out the fire and they didn't."
The murder accused is convinced that prisoners were willfully left to perish by the prison authorities. "When everything was finished and I walked out, I saw an officer watched me like if it was a miracle," he added.