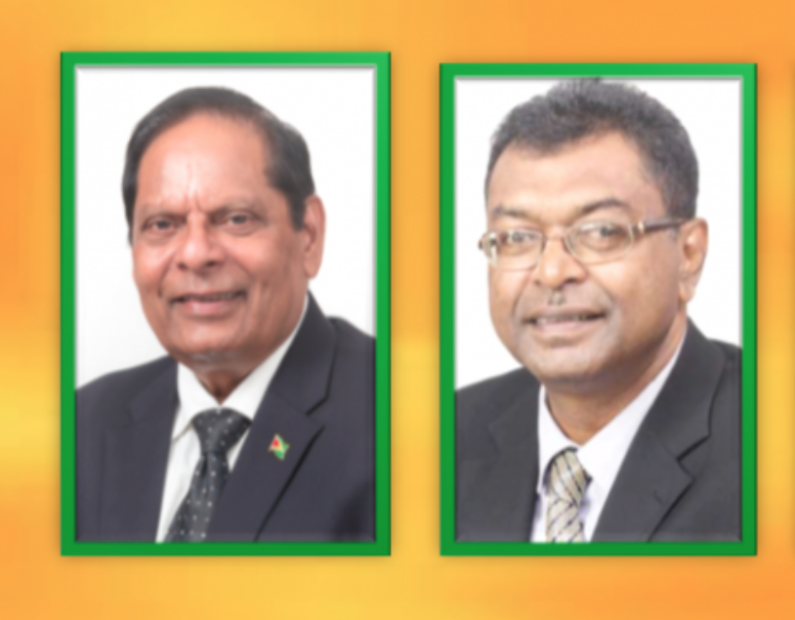 In the poll conducted by the Barbados based CADRES organisation, it has been revealed that among supporters of the APNU+AFC, Prime Minister Moses Nagamootoo is the preferred choice to be the Prime Ministerial Candidate for the next elections.
AFC Chairman and Public Minister Khemraj Ramjattan places 5th among coalition supporters who were questioned about 5 possible AFC candidates for the position.
Mr. Ramjattan is the only party member who has publicly stated his interest in the position.
The CADRES poll has also found that nationally and among uncertain voters, the Prime Minister is the top choice as running mate for President Granger.
Nationally, Mr. Nagamootoo picks up 20% of all persons polled, while just 9% said they would prefer to see Ramjattan. AFC Vice Chairperson Cathy Hughes is also locked in at 9% nationally, although she has indicated no interest in the position.
However, the same poll found that supporters of the Opposition People's Progressive Party/Civic would prefer to see Mr. Ramjattan preferred Ramjattan over Nagamootoo for the Coalition Prime Ministerial Candidate spot.
17% of supporters of the PPP said they preferred Ramjattan to be the APNU+AFC's Prime Ministerial Candidate, while 9% said they would want to see the incumbent Prime Minister in that spot.
While Mr. Ramjattan is bot budging from his Prime Ministerial dreams, the leader of the AFC Raphael Trotman has been rallying behind the current Prime Minister.
In summary, the CADRES organisation said "the most popular option was Moses Nagamootoo, who was preferred among all Guyanese as well as the uncertain voters".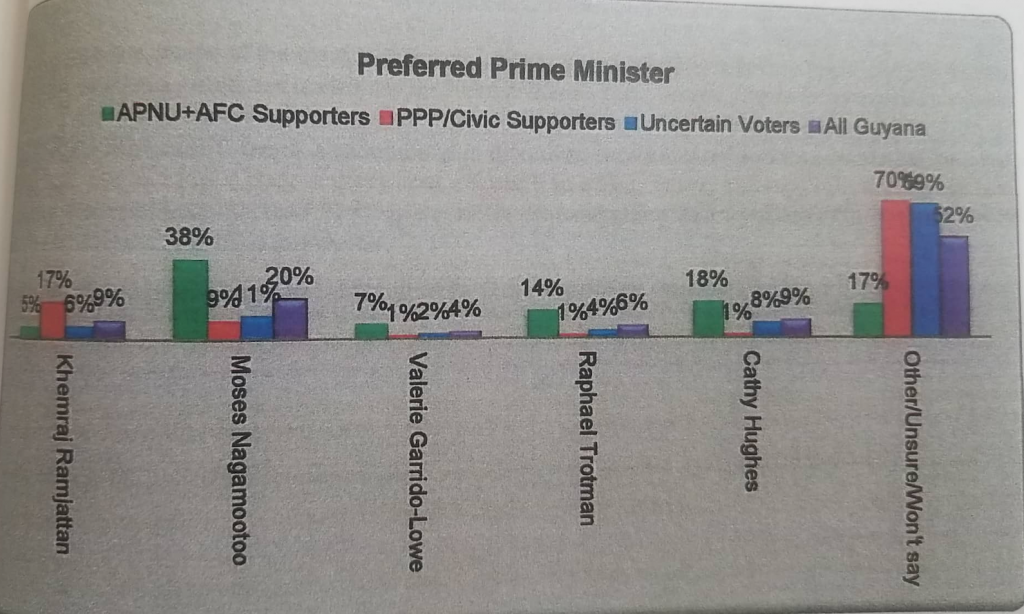 And it is heating up in the Alliance for Change as the party is preparing for its National Congress tomorrow.
The Congress will see the election of party leaders and executives.
Already, executive member of the AFC, Imran Khan, has complained that he has been receiving threats from someone he described as a thug and who he claims is linked to a top official of the AFC.
While Mr. Khan made his complaint known on Facebook, it is unclear whether he filed an official report with law enforcement.
Both Khan and his wife are seeking executive positions at the party's congress.
The issue of Prime Ministerial Candidate for the coalition could come up at the Congress.
There is reportedly a motion to be presented by some AFC Members for current Party Chairman Khemraj Ramjattan to be endorsed as the next Prime Ministerial Candidate for the APNU+AFC coalition.
But the incumbent Prime Minister Moses Nagamootoo has indicated that he is still interested in the position.