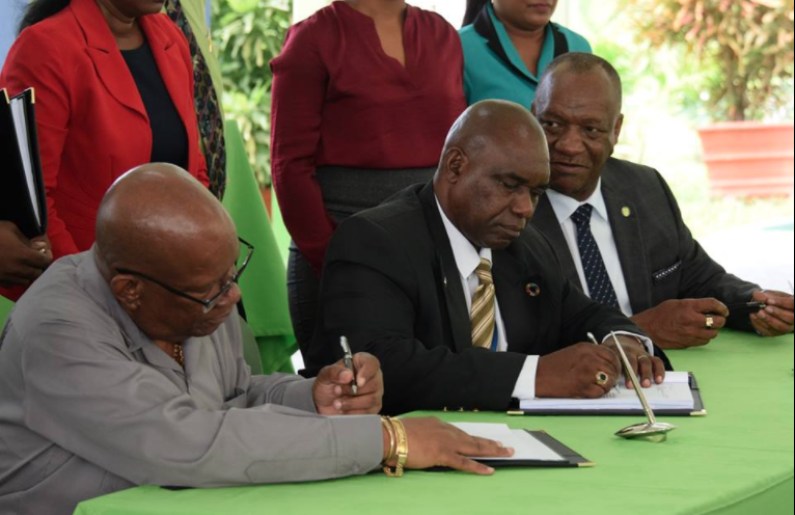 As Guyana gets tough on the sustainable management and development of its land resources and moves daily towards the full realization of the green state, a new project is now on the cards, that is expected to see the drafting of the country's first ever land policy.
During a simple signing ceremony at State House on Thursday, President David Granger hosted members of his government, representatives of the Food and Agriculture Organisation and the Guyana Lands and Survey Commission.
Mr. Granger's vision of a green state demands that there is efficient and sustainable land development and management.  It is hoped that the data to be gathered through this project will facilitate this movement.
He reminded that the country's land resources can be degraded, depleted and devalued by both natural and man-made actions and as such he has endorsed the project, which guards against the reckless use and management of land.
The President said it was important for any country to protect its land resources, a resource if not controlled can lead to underdevelopment.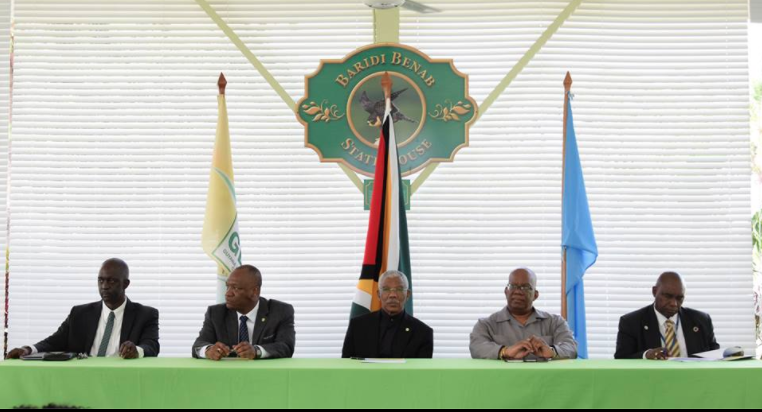 "I am confident it will allow Guyana to build capacity, strengthen land governance and move more quickly towards the goal of becoming a green state," the Head of State said.
The project will run for four years and will see US$15 million being pumped into the development of a harmonized national land policy and legislative framework and strengthened capacity of the Guyana Lands and Surveys Commission.
The Government had requested the Food and Agriculture Organisation of the United Nations to provide technical assistance throughout the project, through experts working side-by-side with local staff.
Country Representative of the FAO, Reuben Robertson spoke at the event on Thursday and outlined the collective expectations after four years of implementation of the project.
He expects, among other things, that the enabling environment for sustainable land development and management will be mainstreamed and there will be better government policies on achieving a green state.
"There are so many more expected outputs of this project that time will not allow us to elucidate. We would have other opportunities to express."
The FAO has given Guyana US$100,000 towards the project.
Commissioner of the Guyana Lands and Survey Commission, Trevor Benn said he is very pleased with the support the project has received from the FAO and the government, particularly the Ministry of Finance.
Benn said the GL&SC, which is the guardian of public lands in Guyana, will continue to push ahead with ensuring land is available to the landless and that land resources are sustainably managed and developed.