Of the 4179 reported cases of child abuse that took place in Guyana last year, the majority of those cases have been characterized as neglect.
In its latest report on Child Abuse, the Child Care and Protection Agency found that there were 2176 cases of reported child neglect. Guyana saw 841 cases of sexual abuse against children and 834 cases of physical abuse. Verbal abuse cases came in at fourth with 257 cases.
Overall, Region 10 claimed the highest number of child abuse cases last year. Twenty-two percent of a the total number of child abuse cases came from the Upper Demerara region.
The Director of the Child Care and Protection Agency, Ann Greene, has explained that sex abuse of children is still a problem in all of the regions.
"All the regions have recorded sexual abuse, so it's right across the country. But if you look at where the hurt is for children, it's in the home. In the place where they should be loved the most, they are being hurt. Mothers are the main perpetrators and fathers," Greene explained.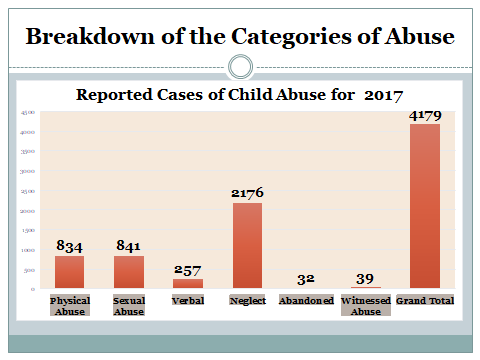 Ms. Greene also noted that the recently released statistics are not reflective of an increase of child abuse, but rather, is attributed to the multimedia child abuse awareness campaign that was launched by CPA last year.
"…There are more channels to report and persons are more willing to talk about child abuse, but there is still too much silence, particularly on childhood sexual abuse which is done behind closed doors and victims are without a voice", Greene explained.
The CPA Director cited an urgent need for 'change' in adult behaviour and attitudes towards children. The Ministry of Social Protection, she reiterated, cannot do it alone, hence the need for partnerships at the grassroots level in order to prevent child abuse and promote child well-being.